Visual Description:  I am the law!
MIPER  =  PRIME,  CNOWR  =  CROWN,  CUROHG  =  GROUCH,  TNRAYT  =  TYRANT   —   Giving us:  IECRGHAN
Clue/Question:  The safari park's rhino would run at vehicles just to show who was – – –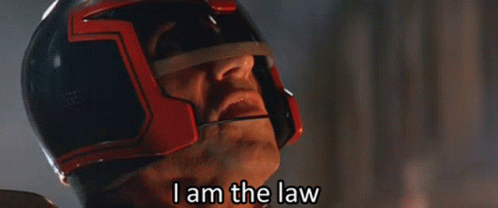 Answer:  IN CHARGE
("I am the law" is the famous line from Sylvester Stallone's 1995 movie, "Judge Dredd".  I'm almost positive that this was/is Donald Trump's favorite movie!  It makes a lot of sense, especially when you consider his claim that he "de-classified" all of those highly classified documents . . . all on his own.  I know that a lot of people still like him for his – strangely perceived – strength, but just like the rhinoceros, he was, and still is, terribly near-sighted!  When you can make mega-bucks, by raping the earth, who cares what happens to the future generations?  That's their damn problem!  They're all a bunch of losers anyway!  Right?!!
45 would have loved to have worn a crown, if he could've gotten away with it!  "The Crown" was not on Amazon Prime, but you can find it on Netflix.  45 was/is quite the grouch when anyone disagrees with him.  Which I guess is the main reason behind his "A-Team" turnover rate of 92%, the most – by far – in any U.S. President's term in office.  And, I'm fairly certain that the resignations far outnumbered the dismissals.  And, that's just the "A-Team"!  It's exceedingly hard to work for a tyrant, folks!  Three of the jumbles are coming up as new for me, but we've definitely seen "curogh" in the past.  The answer letter layout was a great eight letter jumble.  But the leading nature of the clue/question, and the wonderful cartoon, made for a very quick solve.
Beautiful African safari scene cartoon, with a pair of lions basking in the sun, while the two guys in the Jeep try to outrun the rhino.  The fastest rhino can only get up to about 34 MPH!  A lot faster than any human, but not as fast as a Jeep!  So, if they gun it they'll quickly be far enough away from it, where it won't even be able to see them.  Hmm.  Maybe it will still smell them though.  Be well and do good, friends.)   —   YUR
Images courtesy of Google