Visual Description:  Down-under dinner.
WEYLN  =  NEWLY,  TEAML  =  METAL,  KNIYSN  =  SKINNY,  TOAHUT  =  AUTHOR   —   Giving us:  ELYMTAKIATO
Clue/Question:  The Australian marsupial family was all together and enjoying some – – –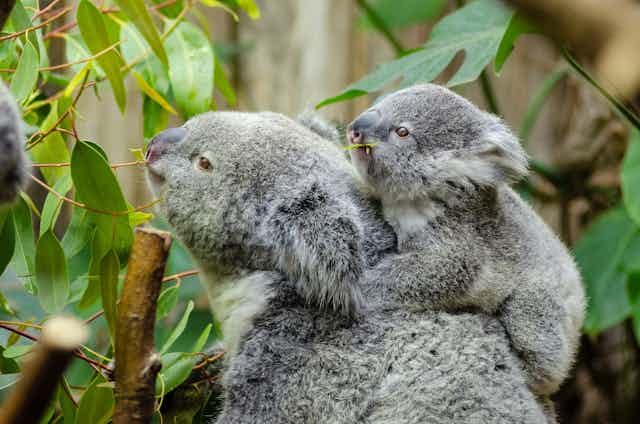 Answer:  "KOALA–TY" TIME
(I like it, but it kinda feels like a re-run to me!   Clearly, not a recent re-run, but from a number of years ago.  I've been solving, and posting, these Jumbles for a long, long time now.  So, maybe it's just my imagination?
We've seen all of these clue words before.  But it's looking like all of today's jumbles are new.  At least to me.  But no stumpers, for me.  The answer letter layout was an elegant eleven letter jumble.  I thought it was nicely cryptic.  But, because of the great cartoon, and the great clue/question – that danced around the word "koala" – the final answer was pretty darn obvious, to me.
Really cute cartoon of the koala bear family.  Even if their name is a misnomer.  They must be dining on a feast of eucalyptus leaves, as that is pretty much all they ever eat.  Familiar, yet fun, Jumble.  Be well and do good, friends.)   —  YUR
Images courtesy of Google