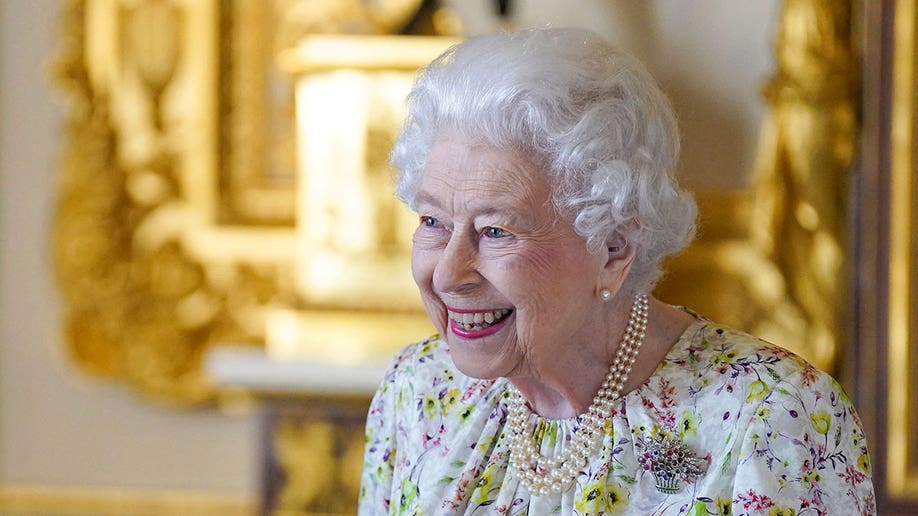 Visual Description:  Charles in charge?
SIPOE  =  POISE,  SOLSF  =  FLOSS,  MRYIGL  =  GRIMLY,  GUIAAN  =  IGUANA   —   Giving us:  PIEFOSGRIMIGUN
Clue/Question:  The king who began ordering people to pay more taxes, levies, etc. was an – – –
Answer:  IMPOSING FIGURE
(Yes, it's good to be the king!  And boy, the guys couldn't have timed this Jumble any better.  What with good ol' Liz kicking the royal bucket at age 96 yesterday.  I could give a horse's patootie about the British monarchy, but her 70 year reign was certainly one for the record books.  For many/most of us she was the only British sovereign we've ever known.  So finally, it's going to be Chuckie's turn.  At age 73, he will be the oldest to ever accede to the throne.  From beloved to reviled???  I'm sure that there are still many folks who blame him for his failed marriage to Princess Di, and possibly her resulting death.  And, many aren't crazy about the home-wrecking, divorced "commoner" that he eventually married too.  Maybe now Americans can get over their perverse fascination with the Royal Family.  What am I saying?!  Those ninnies are still going to love William and Kate.  And, Harry and Meghan.  And, all the pomp and ceremony that goes along the monarchy.  It's hard to believe that we fought a war to gain independence from those inbred clowns!  But I digress.
All of today's clue words are relative commoners.  Two of the jumbles appear to be new, but we've definitely seen "sipoe" and "solsf" in previous Jumbles.  The answer letter layout was the foremost fourteen letter jumble in quite some time!  It contained a portion of one of today's clue words, in GRIM.  But it was wonderfully cryptic!  All I knew going into it was that the first word – of the final answer – was going to start with a vowel, which was a help.  I thought the final answer was one of the most intelligent puns in a long time!
The cartoon is a great medieval throne room scene.  Gotta love the period costumes!  Only a king – or a queen – could impose his/her will on his/her subjects like that.  Thankfully, today most monarchies are largely ceremonial.  But still . . . it's good to be the king!  Be well and do good, friends.)   —   YUR
Images courtesy of Google
PS.  I do not personally harbor any ill will towards towards Camilla.  Stuff happens in one's life, and after all . . . love is love.   —   YUR