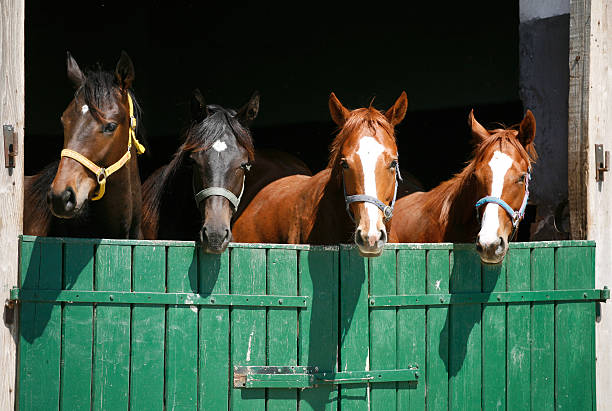 Visual Description:  Horse barn humor.
NBENAR  =  BANNER,  NOOGLB  =  OBLONG,  REVIDT  =  DIVERT,  HASPIM  =  MISHAP,  CINTEE  =  ENTICE,  COLSIA  =  SOCIAL   —   Giving us:  NNEBLODTISATCOI
Clue/Question:  After getting injured on the ride, the horse was back home and in – – –
Pre-Answer:  Two Words  (6-letters)  (9-letters)
Answer:  STABLE CONDITION
(Is this a follow up to yesterday's Jumble about the patient in the hospital???  LOL!  Doubtful.  They create all of these Jumbles well in advance, and I doubt they try to make a Sunday one play off a Saturday one.  But "stable condition" is one of the more well-known hospital patient status designations.  Actually, the word "stable" is only part of a patient's condition.  Typically, it's the second part of either:  undetermined, good, fair, serious and critical.  Some can be considered stable, but serious can be either stable or unstable, and critical is rarely stable.  That's why it's critical.  So sayeth Dr. Rave, who isn't an actual doctor, but he sometimes plays one on the internet.  And, his mother always wanted him to be one.
Today's six six-letter clue words have all been used multiple times at the Jumble.  Only two of the jumbles appear to be new, however we've definitely seen "nooglb", "revidt", "cintee" and "colsia" in previous Jumbles.  The only one to give me any pause was one of the new ones, "haspim".  Mishap is one of the few words, where the SH is not pronounced like shh, similar to misheard.  The answer letter layout was a fantastic fifteen letter jumble.  Nothing obvious about it.  But because of the great cartoon, and the layout of the final answer slots, the answer came to me immediately.
I always enjoy Jeff's cartoons with horses.  I've had a lifelong affinity for horses, probably starting with the television show "Mr. Ed".  But I was also a kid during the age of television Westerns, and we always watched the Triple Crown, and other horse races, in our house.   I guess you could call me a hippophile.  I think if dogs are man's best friend, then horses are the next best friend.  Where would mankind be without horses?  Be well and do good, friends.)   —   YUR
Images courtesy of Google