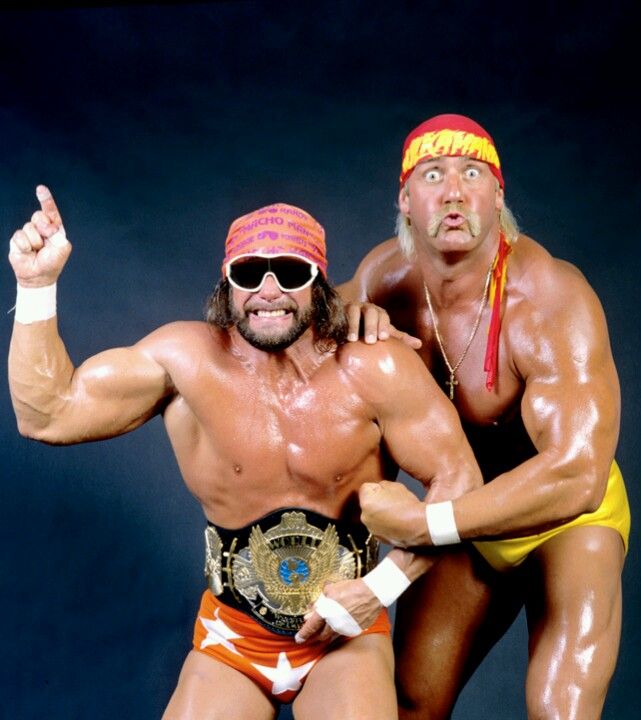 Visual Description:  The GIANT rematch!
PVIRE  =  VIPER,  CRAFS  =  SCARF,  RVAYOS  =  SAVORY,  ZLYILA  =  LAZILY   —   Giving us:  VIRSARAVRLAIL
Clue/Question:  The wrestling match between the two adversaries would begin after his – – –
Answer:  RIVAL'S ARRIVAL
(Good work, guys!  Generally speaking, there are two kinds of people when it comes to wrestling, and I don't mean Greco-Roman wrestling, like you see in the Olympics.  The first being the rubes, who absolutely love it, and believe it to be a totally unscripted "sport".  And, the second being those that seem to despise it, and call it a "fake sport".  But there is also a third kind of folk, who understand that yes, it is completely scripted.  But it is a form of "sports entertainment".  The participants – for the most part – should be considered athletes, as they are big and strong, and perform various athletic moves.  They also have to practice their well choreographed routines, just as any legitimate sports athlete does.  You generally see the matches as a "good guy" vs. a "bad guy".  It's kind of a modern combination of ballet and opera – or soap opera – on steroids!  Unfortunately, too many of the wrestlers do use steroids, and they take a toll on their all too short lives.  I started watching studio wrestling in the '70s, with my brother.  We knew it was a goof, but we enjoyed all the histrionics and story lines.  Then, in the '80s it got much bigger than studio wrestling, graduating to gymnasiums and arenas.  And, I watched it with my step-sons.  Finally, in the '90s and early '00s, I watched it with my biologic son!  I don't really watch it anymore, because all the kids have grown.  But I have fond memories of many of the wrestlers who have come and gone over the years.  Just as I do the various movie and television actors and actresses.  I appreciate their efforts to entertain us.
The clue words are all on the ralis95 clue word database.  Three of the jumbles are coming up as new, for me.  However, we have definitely seen "crafs" in the past.  A thrilling thirteen letter jumble for the answer letter layout!  All the repeating letters, and the great cartoon setup, made for a quick solve of the final answer.  At least it did for me.
Great cartoon of a mid-later '80s Vince McMahon wrestling event, featuring Andre the Giant and the "Real American" Hulk!  Andre usually played the bad guy, but in real life he was a pussycat.  The Hulk was almost always the good guy back then.  Good guys were kind of boring.  Give me a nasty bad guy – like Rowdy Roddy Piper, Razor Ramon, Jake The Snake Roberts, or Macho Man Randy Savage – any day!  LOL!  Be well and do good, friends.)   —   YUR
Images courtesy of Google