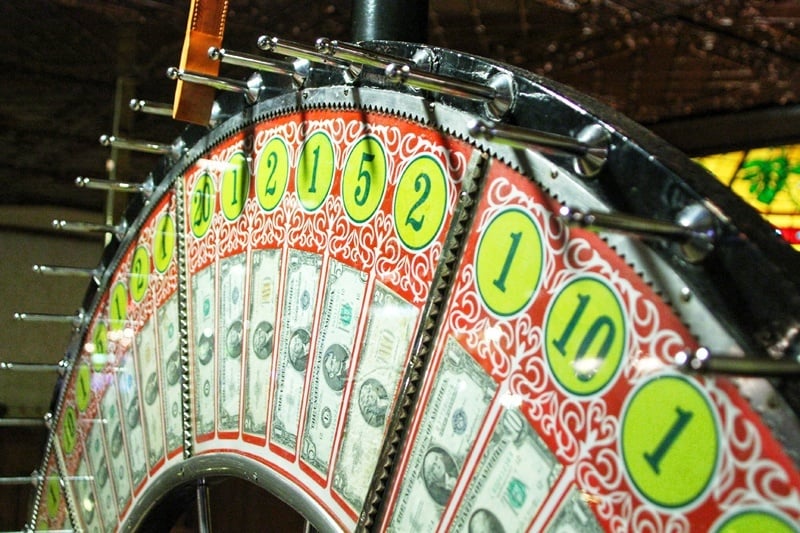 Visual Description:  Lost Wages, NV.
OVPTI  =  PIVOT,  TBYAT  =  BATTY,  GGEEAN  =  ENGAGE,  NHRETC  =  TRENCH   —   Giving us:  IOTBTTEGGETRN
Clue/Question:  Thanks to their ad campaign, business at the casino was – – – Answer:  GETTING "BETTOR"
(Casino gambling, and sports gambling, were once one of the three societal sins.  But with the advent of state lotteries, the state governments realized that there was SO MUCH more to be made/earned by their citizen's losses, that they have been expanding it more and more.  You don't even have to leave home in many cases, as some states allow you to wager on your phone apps.  It has grown so big, so fast, that most people don't consider it any kind of a danger anymore.  And, marijuana has been made legal – in varying degree – in all but four states: Idaho, Wyoming, Kansas and South Carolina.  While a few states have begun to decriminalize even harder drugs.  How long before we get some Jumbles dealing with previously illegal drugs?  It really wouldn't be any different than the ones that show the occasional characters enjoying a cocktail/wine/beer.  Somewhere down the road – despite our puritanical heritage and longstanding mindset – more states may address the third traditional societal sin, and decriminalize and regulate prostitution!  It's always been known as "the world's oldest profession", and with the rationale that legalizing it would remove the criminal element/human trafficking, and put the power in the hands of the providers, it would make as much sense as the other – formerly – societal sins.  THAT would really open up some Jumble puns!  But, for now, we'll have to settle for gambling puns.
All of today's clue words are on the ralis95 clue word database!  Three of the jumbles are coming up as new, for me.  However, we have definitely seen "tbyat" in earlier Jumbles.  They all came to me very quickly.  The answer letter layout was another thrilling thirteen letter jumble.  By itself, nothing obvious about it.  But the quotation marks really made for a quick solve.
Fun cartoon of a couple about to walk into the casino.  I like how Jeff has shown us the game with the best odds of winning:  blackjack, and the two games with the worst odds of winning:  the Big Six Wheel and the slot machines.  Folks play the slots and the wheel because they don't require any strategy or thought, just luck.  And, the casinos rake in the money on those games.  Fun Jumble!  Be well and do good, friends.)   —   YUR
Images courtesy of Google