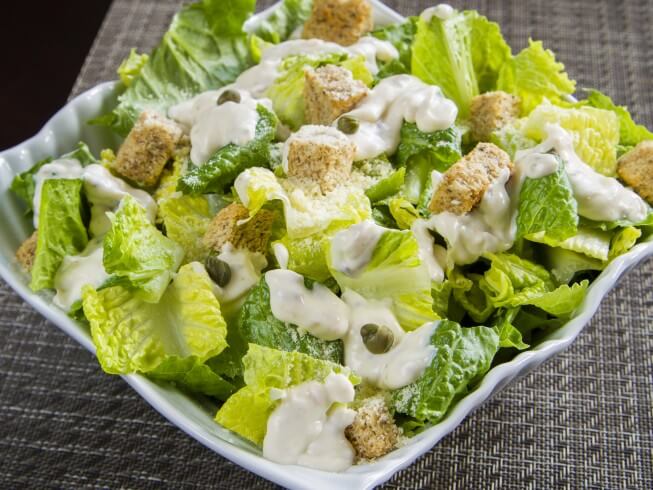 Visual Description:  Pre, or apres, the entree?
VALEE  =  LEAVE,  LESLP  =  SPELL,  WEHRSD  =  SHREWD,  DZCIAO  =  ZODIAC   —   Giving us:  EAESELSHRZDIA
Clue/Question:  The romaine, Parmesan, dressing, etc. looked so yummy, he wanted to – – –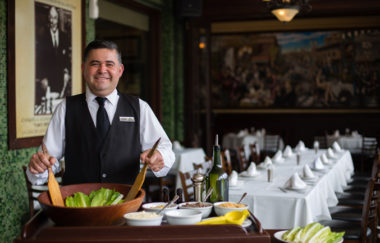 Answer:  "SIEZE–HER" SALAD
(Nine times out of ten, I'm ordering the Caesar salad.  With my meal, that is!  I rarely order just a salad.  Ooh, but I do like a nice chicken Caesar salad!  Sometimes I'll ask for Italian, or some kind of vinaigrette dressing.  But I'm not really a fan of French, Russian, or Thousand Island.  We all have our preferences.  Right?
All of today's clue words already reside on the ralis95 clue word database.  Three of the jumbles are coming up as new, for me.  However, we have assuredly seen "valee" in previous Jumbles.  The answer letter layout was a thrilling thirteen letter jumble.  Terrifically cryptic!  But the aggressiveness of the boyfriend/hubby, along with the quotation marks and hyphen in the final answer slots, made for a quick solve.
Fine cartoon of the couple at the restaurant.  Classic looking – modern day – waiter, wielding the pepper mill.  Both the patrons appear to be enjoying a drink with dinner.  You can see the QR code for the menu on the table.  I've been hearing, and reading, that people are largely done with QR codes, and would rather have traditional menus.  Maybe the latest monkey-pox scare will cause folks to think again.  We'll see.  Be well and do good, friends.)   —   YUR
Images courtesy of Google