Visual Description:  Goofs attempting golf.
CFLOA  =  FOCAL,  TUHOY  =  YOUTH,  DLUEGS  =  SLUDGE,  BRDOFI  =  FORBID   —   Giving us:  FOCOTHSUEFRI
Clue/Question:  The golf ball that landed on the roof of the house was – – –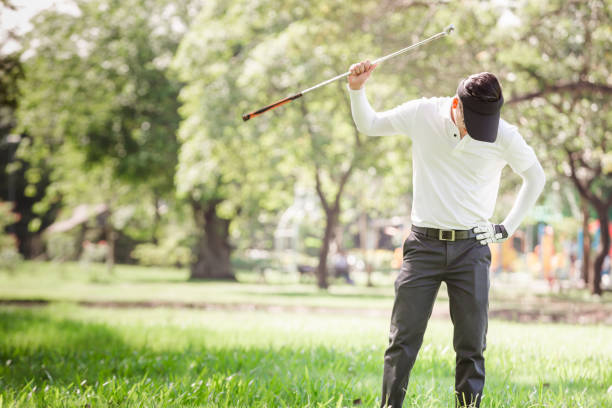 Answer:  HIT OFF COURSE
(Of course it was off course!  While some – strange – people enjoy owning a house that borders a golf course, it does come with the obvious perils.  Trespassers, divots in their lawns, dents in their siding, and the occasional broken window are the price you have to be willing to pay to watch a bunch of – mainly – hacks try to play the game of golf which ". . . is a good walk spoiled", according to Mark Twain.  And, George Carlin's opinion of golf is much more harsh.  But the best explanation of golf comes from Robin Williams.  It's a classic.
Good ol' reliable Jumble clue words.  Three of the jumbles appear to be new, but we've definitely seen "dluegs" in the past.  The answer letter layout was a tremendous twelve letter jumble.  Wonderfully cryptic.  But the the layout of the final answer slots made for a very quick solve.
Fun cartoon of David L. Hoyt and Jeff Knurek trying to play a round of golf.  The neighbor can't be too happy about what just transpired, but he should be thankful that David didn't break a window.  Stick to Spikeball and word games, fellas!  LOL!  Be well and do good, friends.)   —   YUR
Images courtesy of Google