Visual Description:  Roofer madness!
NCIGI  =  ICING,  GFYOG  =  FOGGY,  MRTIPE  =  PERMIT,  RHYITT  =  THIRTY   —   Giving us:  IINOGGERTTHT
Clue/Question:  If they were going to repair the roof before the next storm, they'd need to – – –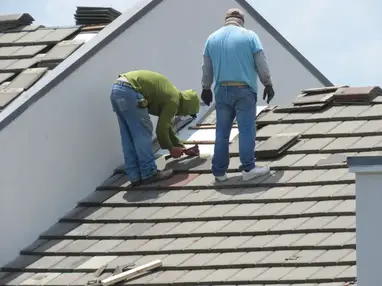 Answer:  GET RIGHT ON IT
("How you gonna do it if you really don't wanna climb by standing by the wall?  Get your back up off the wall."  Dat's Kool . . . & The Gang, baby!  I used to be good at "Name That Tune".  But now, with all the Justin Bieber, Beyonce, Katy Perry, and Harry Styles, etc. songs I just draw a blank.  And, you can pretty much totally forget about anything Rap, or Hip Hop!  I got Monday's Final Jeopardy Rock & Roll Hall of Fame question – Stevie Nicks – but I whiffed on Friday's Final Jeopardy Inaugural question, because I was thinking it was Tennessee's gubernatorial inaugural ball, and NOT Al Gore's Vice Presidential inauguration!  So, I thought it was Paul Simon's "Graceland", but the answer was Paul Simon's "You Can Call Me Al"!   And, I was SO sure I was right!  Oh, well.
We've seen all these clue words before.  Three of the jumbles came up as new for me, but we have seen "gfyog" before.  The answer letter layout was a terrific twelve letter jumble.  I think the spacing of the final answer slots was my biggest clue.
Fine cartoon of a home owner, with a leaky roof, and a couple of roofers.  Nice storm clouds on the horizon.  And, a cute puppy dog pressing up against the window.  Sorry for the late posting.  Some days just get away from you.  Be well and do good, friends.)   —   YUR
Images courtesy of Google