Visual Description:  Really branching out.
PSOOEP  =  OPPOSE,  SSNITI  =  INSIST,  RAQYUR  =  QUARRY,  TROEAT  =  ROTATE,  SMOTUT  =  UTMOST,  AFMOLR  =  FORMAL   —   Giving us:  OSEITRRYTAEMOSFL
Clue/Question:  Learning about your ancestors makes it possible for you to see your – – –
Pre-Answer:  Three Words  (6-letters)  (5-letter's)  (5-letters)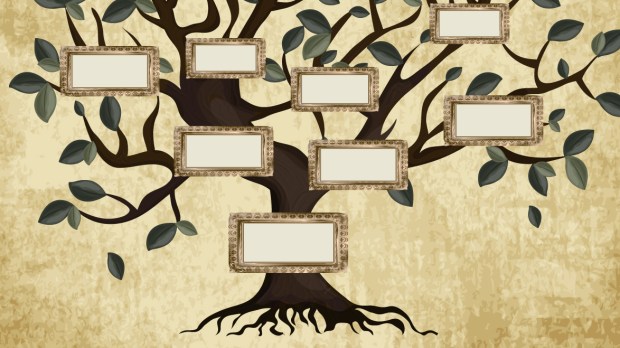 Answer:  FAMILY TREE'S ROOTS
(A possible tie-in to an NBC television show, airing tonight, called "Who Do You Think You Are?"???  Sponsored by Jumble??? You know our guys.  Always looking to broaden their brand!  Newspaper, books, mugs, games, internet . . . our guys know how to make a buck!
The world famous ralis95 clue word database has confirmed that all of today's clue words have been previously used.  Five of the jumbles are coming up as new for me, with only "psooep" having definitely been used in prior Jumbles.  The answer letter layout was a spectacular sixteen letter jumble.  By itself I don't think it gave a thing away.  The cartoon, and the whole ancestry theme, made for a quick solve though.
Very interesting cartoon.  When the characters look like this – very specific – you know that they're either famous, or at least friends of one, or both, of the guys.  The name Gillett is not ringing any bells for me though.  Maybe some of you can make out more of the detail on his computer screen.  It's too small in my paper.  Be well and do good, friends.)   —   YUR
Images courtesy of Google