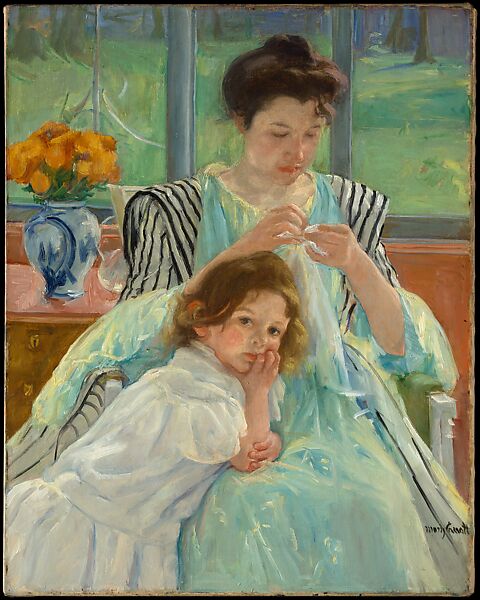 Visual Description:  Baby steps.
CREMY  =  MERCY,  RHAFW  =  WHARF,  SJUDTA  =  ADJUST,  CONUEP  =  POUNCE   —   Giving us:  MECWHUSTON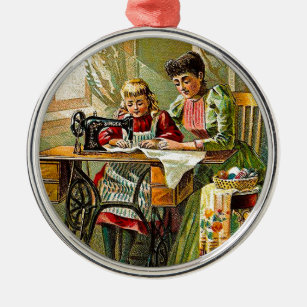 Clue/Question:  Was she an expert seamstress?
Answer:  NOT "SEW" MUCH
(Another great classic homophonic Jumble pun.  And "sew" it goes.  Great seamstresses are not born, they're made.  She might not be an expert today, but she'll eventually get there.  It looks like she has a good teacher at least.  Sewing is not an easy task.  I remember in junior high I took a Home Economics class for guys, and I was not very good with a sewing machine.  I was a pretty fair baker though.
All of today's clue words are on the ralis95 world famous clue word database.  Three of the jumbles did come up as new, for me.  But we've certainly seen "cremy" before.  The answer letter layout was a tenacious ten letter jumble.  Not the most cryptic though.  I did see the word NOT right away.  It would've been better had they switched the order of "adjust" and "pounce", but it is what it is.
Quaint cartoon of a seamstress mother and hopeful daughter.  It looks like she has quite a ways to go, but she's just a kid.  With practice her skills will improve.  Maybe – someday – she'll even surpass her mom!  Be well and do good, friends.)   —   YUR
Images courtesy of Google