Visual Description:  . . . but Mother knows better!
LLEWYO  =  YELLOW,  BNOYOD  =  NOBODY,  HRGEIH  =  HIGHER,  RUGFIE  =  FIGURE,  SAWELE  =  WEASEL,  CITSTH  =  STITCH   —   Giving us:  YWOODHHREWSSTT
Clue/Question:  Her daughter was asking lots of questions, and Mom was happy to provide – – –
Pre-Answer:  Four Words  (5-letters)  (2-letters)  (3-letters)  "(4-letters)"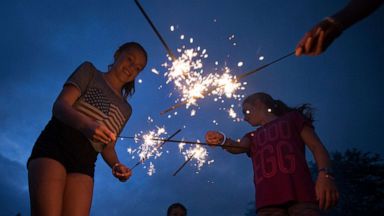 Answer:  WORDS TO THE "WHYS"
(Maybe I just see the final answers better when there are quotation marks involved???  This definitely was no gimme though.  I think the guys kind of threw in a bit of misdirection, as the little girl never once asked why!  But I definitely like the pun!
All classic Jumble clue words today!  Five of the jumbles did come up as new, for me, but we've definitely seen "sawele" in past Jumbles.  None of them tripped me up today.  The answer letter layout was a feisty fourteen letter jumble.  That was for Ken's benefit!  I thought it was beautifully cryptic.  Definitely far from obvious.  Initially, I though the third word was going to be HER, but then I spotted the word WORDS, and the pun fell into place.
Fine cartoon of a young family celebrating the Fourth of July!  The older kids are playing with sparklers, but the parents are "whys-ly" keeping them from the little one.  The little girl appears to be wearing Crocs and a hula skirt.  And, there's a fireworks display going on in the distance.  Great holiday Jumble.  Be well and do good, friends.)   —   YUR
Images courtesy of Google