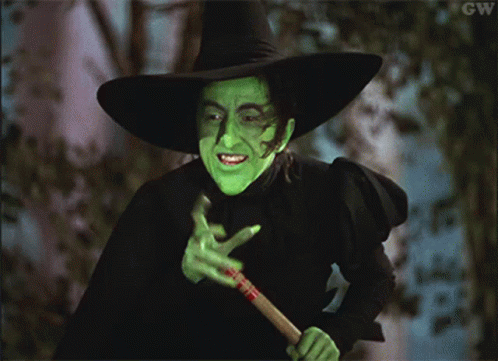 Visual Description:  East-bound & down?
DIHWT  =  WIDTH,  ENKLE  =  KNEEL,  DRYLAH  =  HARDLY,  NCATEC  =  ACCENT   —   Giving us:  WIDHKEEHADACCE
Clue/Question:  After casting so many sinister spells in a row, the evil witch had a – – –
Answer:  WICKED HEADACHE
(A classic movie pun!  That is unless some special interest group hasn't determined that "The Wizard of Oz" is politically incorrect too.  That "little people" – or is it "vertically challenged" – bloc is getting bigger . . . well stronger by the minute, you know!  If/When that finally happens "TWoO" will be relegated to the cinematic scrap heap.  Yes, yes.  THAT old rant again.  We just accept too much crap-ola these days, and we shouldn't.
All four of today's clue words are charter members of the ralis95 clue word database.  But Mr. Hoyt has come up with four brand timeout? – can't say spanking anymore – new jumbles to these clue words!  I think he must have access to my WordPress Tags, because he's doing a bang-up job of coming up with new jumbles!  The answer letter layout is a flamboyant – well, it IS Gay Pride month – fourteen letter jumble.  But with all the C's, D's, and E's, and the great visual clues, there really wasn't much of challenge in getting the final answer.  At least not for anyone who has seen "The Wizard of Oz".
Really cute cartoon!  I've never seen "Wicked", so I don't know if Nessarose Thropphas – the Wicked Witch of the East – has this scene in the show, or not.  But like her better known sister, it looks like she also commands a band of flying monkeys.  Her chaise lounge stand appears to be alive.  Ya know, I've never thought about this before, but does Glinda – The Good Witch of the North – have any siblings?  We'll probably never know.  Back-stories about the bad guys are much more interesting.  Billie Burke's Glinda was beautiful, but ultimately boring.  Margaret Hamilton's "WWotW" – later named Elphaba – was, and will always be, the show-stopper!  Unfortunately, it kind of type-cast her.  Not that she was leading lady material to start with, but always being "the witch" must have been painful.  Great Jumble!  Be well and do good, friends.)   —   YUR
Images courtesy of Google