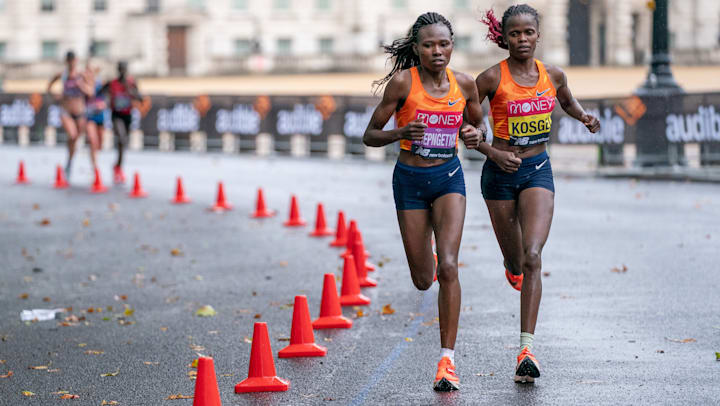 Visual Description:  The joy of the jog.
CENUL  =  UNCLE,  GINVE  =  GIVEN,  AMPIRI  =  IMPAIR,  CAUNNE  =  NUANCE   —   Giving us:  UNGNIIRNN
Clue/Question:  Though they weren't likely to win the marathon, they were happy to be – – –
Answer:  IN THE RUNNING
(Was this Jumble pun an also ran???  Relatively speaking, it was far from a Jumble winner.  I can't imagine anyone having too much trouble coming up with this final answer.  I kinda feel like there were a lot of giveaways.  Maybe too many?
All of the clue words are old favorites.  Three of the jumbles appear to be new, but we've definitely seen "cenul" some time ago.  It did take me a few looks to see "impair".  The answer letter layout was not the toughest nine letter jumble.  Not sure if changing the order of the clue words would've made any difference.  The dialog, the clue/question, and the layout of the final answer slots made for a very quick solve.
Fine marathon cartoon.  It looks like the guy is holding a sign that says:  Don't Read This, RUN!  Cute!  I liked the hidden Jumble tribute in the two women's numbers:  1954, when the Jumble was first created, by Martin Naydel.  Although, initially it was called "Scramble".  Not sure when the name actually changed over.  Be well and do good, friends.)   —   YUR
Images courtesy of Google