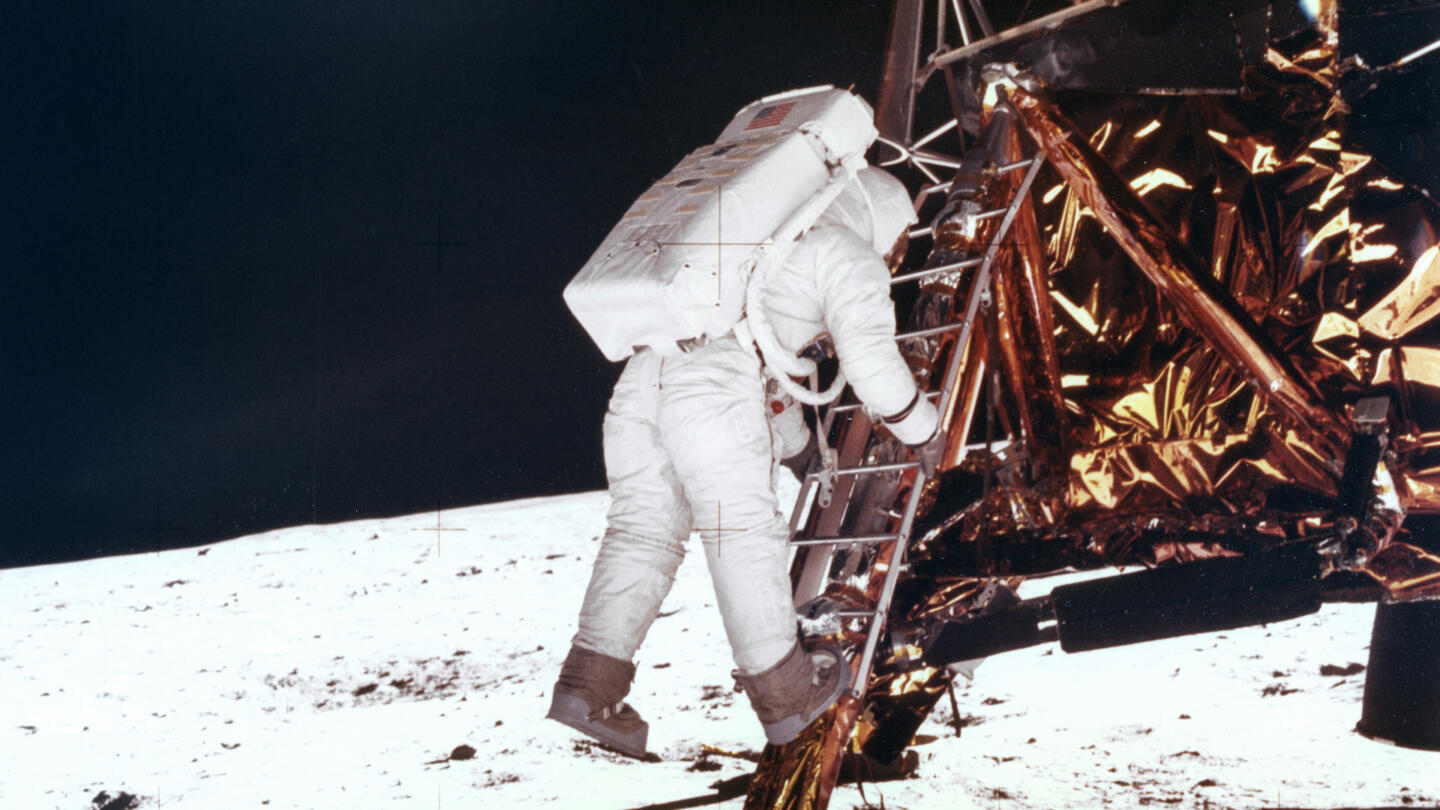 Visual Description:  Lagging lunar landing.
PRHOM  =  MORPH,  SREPS  =  PRESS,  TOGHAC  =  GOTCHA,  EGANAD  =  AGENDA   —   Giving us:  MRPPRSGOCAEA
Clue/Question:  The TV documentary on the Apollo 11 moon landing mission was a – – –
Answer:  SPACE PROGRAM
(Ya see, kids.  Back in the day, getting a man on the moon was officially known as the Space Program.    The moon – not being on earth – is out in space!  And another word for a show on television is a program.  So, if any of you were wondering how this answer is a pun . . . now you know.  For those of us who've been around the block a few times . . . I apologize for stating the obvious.
None of the clue words are new.  One is barely a word:  GOTCHA.  It's just a slangy contraction that's found its way into dictionaries.  If Hoyt or Knurek are reading this they could also try using GONNA and/or KINDA.  They're in the same dictionaries, but not on the ralis95 clue word database.  And LEMME is even in a few, though not Merriam-Webster!  Two of the jumbles are coming up as new.  But we have seen "sreps" and "toghac" in previous Jumbles.  The answer letter layout was a terrific twelve letter jumble.  Wonderfully cryptic.
Great cartoon of a multi-generational family watching a documentary on the momentous 1969 occasion!  Great recreation of Neil Armstrong taking that first step too.  "That's one small step for man, one giant leap for mankind."  I think Neil adlibbed that a bit.  But it's the line that we all know.  Be well and do good, friends.)   —   YUR
Images courtesy of Google
Happy birthday to Charlie Thomas, of The Drifters!  (The original is still the best, in my opinion.)