Visual Description: The Ladies who Launch?
HIWLR = WHIRL, SBINO = BISON, TGURET = GUTTER, PCAAEL = PALACE — Giving us: WIRSNGTRPAE
Clue/Question: The Olympic high jumpers' favorite beverage was – – –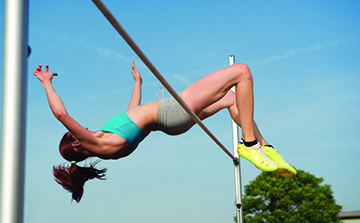 Answer: SPRING WATER
(BOINGGG!!! Oh, yeah. This one definitely qualifies as a stinky Jumble pun! I certainly hope the water is not as foul as this pun. That would NOT be very refreshing, now would it! We tend to call all bottled water "spring water", yet a lot of it is just your basic municipal tap water that has been filtered, and/or de-ionized, and/or oxygenated, and/or infused with so-called beneficial vitamins and minerals. But we gladly buy the stuff! Even if our tap water is A-OK! Why? The power of marketing! It is both very persuasive and pervasive. Of course, there are some areas where the water is high in stinky sulfur and/or some nasty man-caused pollutants, but those are more the exception than the rule. And, more times than not that's NOT on Mother Nature! That's mostly due to the fossil fuel industry, chemical companies, and other irresponsible corporate practices; like illegal dumping. Big profits tend to result in shortsightedness. Kick the can down the road, and let the next generation worry about it. Oy vey!
Once again, all of today's clue words are already on the ralis95 clue word database, while all of the jumbles appear to be newbies! None of them tripped me up though. The answer letter layout was a wonderful eleven letter jumble. Nothing terribly obvious about it. I might have switched the order of "whirl" and "bison", so we wouldn't have seen the SNG, but that's just a minor critique. The one piece of dialog definitely clues you into the WATER aspect.
Fine cartoon of the high jumpers, and what appears to be some kind of coach/trainer. In the background you can see somebody executing the Fosbury Flop, popularized by Dick Fosbury, back in the 1968 Summer Olympics, in Mexico City. I think it's pretty much the standard way high jumpers have been doing it ever since! Be well and do good, friends.) — YUR
Images courtesy of Google