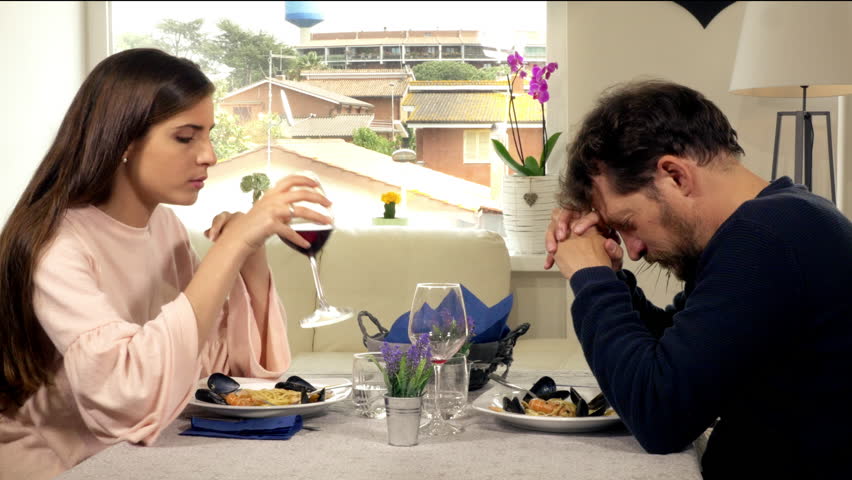 Visual Description:  Dining dismay.
GAMIE  =  IMAGE,  KITCH  =  THICK,  TAEEUQ  =  EQUATE,  CAPTUE  =  TEACUP   —   Giving us:  IIQTTU
Clue/Question:  When he started complaining about his job again, his wife told him to – – –
Answer:  QUIT IT
(Good little stinky pun.  But easier said than done.  Especially depending on a person's age, experience, and demand in their line of work.  I've been listening to my son complain about his job, for going on two years.  He has gone on a number of interviews, but some of the companies were a little sketchy, and some just didn't pan out.  But just yesterday he called to tell me that his interview from Thursday morning is resulting in them wanting to hire him!  Finally, some good news for him!
We have seen all of today's clue words before.  As usual, the only one to give me pause was that silly little compound word!  Why isn't coffeemug a compound word yet?  Or beermug?  The English language is an old boys club, and those silly Brits DO love their tea.  But I thought they generally drink a good amount of beer, as well?  Silly Limeys!  I hear that German is even worse with compound words!  Three of today's jumbles are coming up as new, for me.  But they've definitely used "gamie" before.  A six letter answer letter layout is almost a joke!  Especially when it leads to two simple words.
Great cartoon of the married couple discussing the day over dinner.  From their spread it looks like they must be doing fairly well.  I see that they're having a little wine with dinner.  In vino veritas!  It doesn't look like the guy is looking for advice, just a little sympathy.  But I guess the wife has run out of it.  Is that a cat, or an owl, hanging on the wall?  Be well and do good, friends.)   —   YUR
Images courtesy of Google
Happy birthday to Gert Bettens of K's Choice, and to Ruth Pointer of The Pointer Sisters!
(Obama's theme song?  LOL!)