Visual Description:  Captive feline.
RAWOR  =  ARROW,  NVMEO  =  VENOM,  TUTNAR  =  TRUANT,  CAMPIT  =  IMPACT   —   Giving us:  RWVERUIP
Clue/Question:  Keeping their kitty happy was within the couple's – – –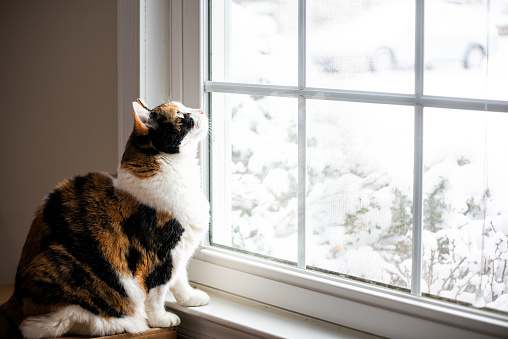 Answer:  "PURRVIEW"
(This feels like a rerun, from a long time ago.  I know we've definitely had other PURR puns before.  And of course, they had to do with kitty cats.  I'm glad to see this couple keeping their kitty indoors.  I know a lot of people let their pet cats go out, from time to time, mainly because the cat wants to, and they want to satisfy the cat's desires.  But it's really NOT a good thing.  Not for the cat's themselves, and definitely not for the critters that become their prey.  Letting your tabby out exposes them to a multitude of dangers.  Coyotes, foxes, some dogs, and even some birds of prey love to eat cats.  Lots of cats get hit by cars chasing some prey or another, too.  And cats are territorial and get into fights, especially the toms.  The interaction with these other cats – especially feral cats – is where they pick up diseases.  And, all felines are natural born killers.  It doesn't matter if they're well-fed, or not, their instincts command them to hunt.  And, they are VERY good at it.  I read an article a while back that said the common house cat was responsible for the deaths of 2 BILLION small creatures annually!  And, that these deaths are even leading to some species' extinction.  So, have a heart.  If you enjoy having birds, rabbits, squirrels, chipmunks, etc., etc. then please keep your Tiggers and Fluffys indoors!
All classic clue words today.  A couple of the jumbles came up as new for me.  But we've definitely seen "rawor" and "campit" in the past.  It took a couple of looks for me to see "venom", but I didn't need to back into it, or anything.  The answer letter layout was a straight eight letter jumble.  Decently cryptic.  But the final answer came to me immediately, for a lot of reasons.
Cute cartoon of the couple with their well fed kitty, on his perch, gazing wantonly at those birds outside the window.  I like how puddy's tail is twitching in anticipation.  And, the scratch marks on the combo-perch were a nice touch.  Hopefully he/she leaves the couch alone!  Fun Friday Jumble.  Be well and do good, friends.)   —   YUR
Images courtesy of Google
Happy birthday to Jerry Cantrell of Alice in Chains! (Pretty intense anti-war song!)