Visual Description:  Break out the tomato juice!
SIDYA  =  DAISY,  CERIP  =  PRICE,  WAUSKQ  =  SQUAWK,  GEMTNA  =  MAGNET   —   Giving us:  DISRIESAKANT
Clue/Question:  The young skunk sprayed the man.  The skunk's proud mom looked on as it – – –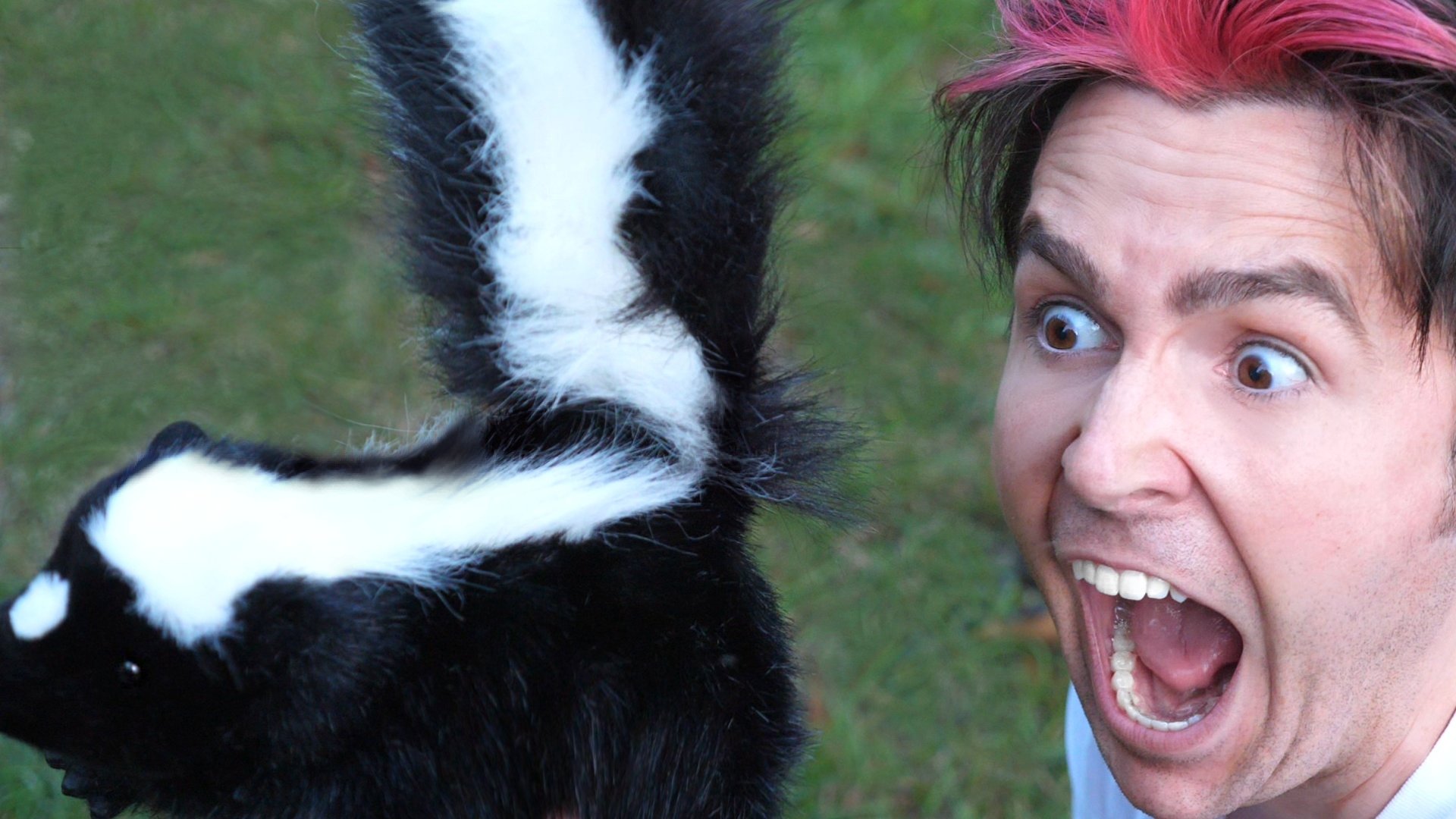 Answer:  RAISED A STINK
(I think I could get in trouble if I say what I usually say about most of these Jumble puns.  So, I'll just leave things at . . . malodorous.  I don't know why the old wives' tale says to use tomato juice to counter the stench.  I've heard that that is a falsehood.  The better home remedy is:  "1 quart of 3% hydrogen peroxide, ¼ cup baking soda and 1 teaspoon liquid soap. The soap breaks up the oils in the skunk spray and allows the other ingredients to do their work. The solution should be rinsed off with water. Do not get the solution in an animal's eyes or mouth – use a sponge to apply it around the face."  –  from villageveterinary.com
No change on the new clue word home-front!  Two of the jumbles appear to be new, but we've definitely seen both "sidya" and "gemtna" in earlier Jumbles.  No stumpers for me today.  The answer letter layout was a twisty twelve letter jumble.  I thought it was wonderfully cryptic.  I think the clue/question ending in "it" threw me a little, because I wasn't seeing the final answer right away.  But I kind of worked backwards, getting STINK, then A, then RAISED.
Fine cartoon . . . I guess.  My newspaper, The Journal News, a Gannett newspaper, has completely changed their format.  What used to – forever – be two FULL pages of the funnies and games has essentially been squeezed onto a single page.  The Jumble IS on the next page, but it's at least a third of the size I'm accustomed to, as it's squished in with the totally unnecessary USA Today Crossword, something called Boggle Brainbusters, a Lexigo?, and a Celebrity Cipher!  So, technically they've given me more content – than I want/need – but it's much harder to read it!  The Cryptoquote, which was missing from the Sunday edition, was so tiny that it took quite some time to get it started.  Surprisingly, the Bridge article's font is actually LARGER than the old The Aces!  But who the F gives a crap about Bridge???  Not I, says the Rave!  I'll write to the paper, but they'll probably just respond with some blather about the changing times.  Be well and do good, friends.)   —   YUR
Images courtesy of Google
Happy Birthday to Michael bland of Soul Asylum!
Rest in Peace, William Hurt!
https://www.ae911truth.org/news/791-it-took-me-a-long-time-to-face-what-i-knew-to-be-true-about-9-11