Visual Description:  Rough estimates.
PAOER  =  OPERA,  NUDOM  =  MOUND,  HOCCUR  =  CROUCH,  HORDSU  =  SHROUD   —   Giving us:  OPMUNRUSUD
Clue/Question:  If you want more zeros, an addition problem can make it easy to – – –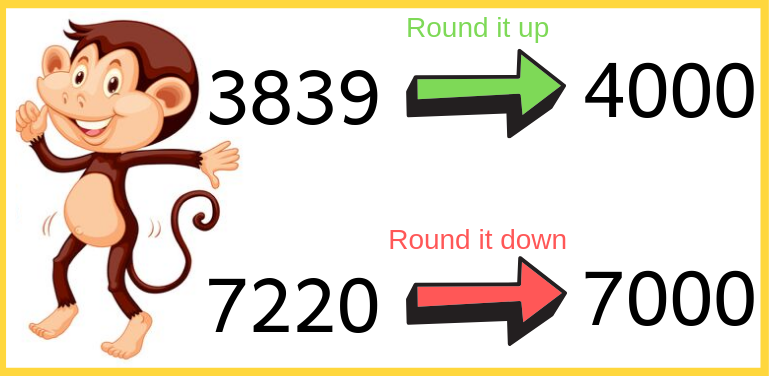 Answer:  ROUND "SUM" UP
(Is dere sum-ting going on over at the Jumble?  This is the second Jumble in under a week to use the word SUM.  Well, Saturdays' actually used SUMS, but how much closer can it get?!?!  It sounds like the boys might be suffering from originality burnout.  Maybe, the guys need to take a vacation, or sum-ting!  LOL!
All classic Jumble clue words again today.  A couple of the jumbles are coming up as new, for me.  However, we have definitely seen "hoccur" and "hordsu" in earlier Jumbles.  They all came to me very quickly though.  The answer letter layout was an intense ten letter jumble.  Nothing obvious about it.  The quotation marks were very helpful in getting the final answer.
It looks like we've progressed from second/third graders up to fifth/sixth graders.  I remember my first male school teacher was my fifth grade teacher, Mr. Genthner.  Behind his back, we always used to call him "Papa"!  I haven't thought about him in . . . forever!  I also hadn't thought very much about rounding in a while.  It definitely helps in being concise.  I wonder if "Papa" taught us about rounding?  Fun Jumble.  Be well and do good, friends.)   —   YUR
Images courtesy of Google
Happy birthday to Jerry Horton, of Papa Roach!