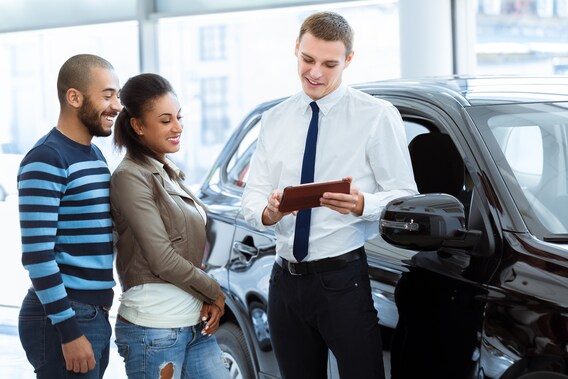 Visual Description:  Calling the shots.
UGEGA  =  GAUGE,  THHCA  =  HATCH,  SCYMIT  =  MYSTIC,  BIRFDO  =  FORBID   —   Giving us:  UEHCYIOB
Clue/Question:  No one told them what to purchase.  After some research, they were there – – –
Answer:  "BUY" CHOICE
(Meh.  This one felt a little bland, to me.  It didn't even get a mild chuckle from me.  The various BYs have been done, and done . . . to death.  This feels like a filler Jumble, to me, like they were just going through the motions.  I guess they can't all be gut-busters!
The ralis95 clue word file is working again . . . mostly.  All of today's clue words were on it.  As were yesterday's.  Two of the jumbles appear to be new, but we've definitely seen "thhca" and "scymit" in the past.  It took a look and a half to see "mystic".  The answer letter layout was a nifty nine letter jumble.  I thought it was suitably cryptic.
Fine cartoon of a couple buying a brand new Jumble-Mobile!  I guess the guys aren't having supply chain issues, like the rest of the auto makers are.  This seems to be the way to buy cars now.  Go online for a quote, and then take it to your local dealer, and say:  We'll pay this!  Not sure if it will work right now, seeing how demand has been exceeding supply.  I hope it's not a gas guzzler.  Gasoline prices are through the roof!  Oh, well.  This too shall pass.  Be well and do good, friends.)   —   YUR
Images courtesy of Google
Happy birthday to Jimmie Fadden, of the Nitty Gritty Dirt Band!