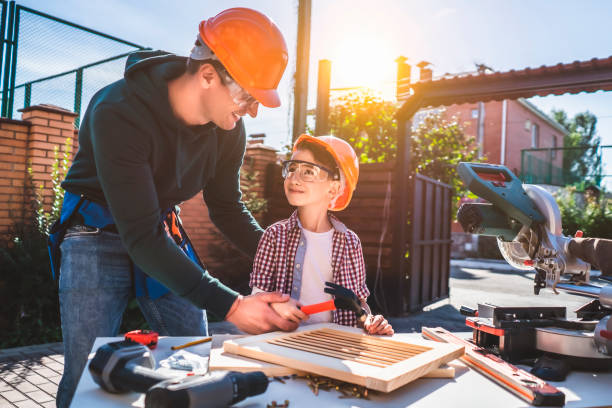 Visual Description:  Future carpenter.
TSPEW  =  SWEPT,  TLAGO  =  GLOAT,  KARHNS  =  SHRANK,  TYEALN  =  NEATLY   —   Giving us:  SPTGOASREAY
Clue/Question:  Teaching someone about using a hammer is simple because it's – – –
Answer:  EASY TO GRASP
(Not the easiest of Jumble solves.  Especially for a Monday.  It's a fine Jumble pun though.  Not all that stinky .  More of a matter of fact kinda truism.  Dad was actually making the stinkier pun, by saying:  "You nailed it right away!"
We've seen all of these clue words before.  Three of the jumbles are coming up as new, for me.  Though we've definitely seen "tlago" sometime in the past.  I got all the clue words right away.  The answer letter layout was an electric eleven letter jumble.  Marvelously cryptic.  At first I tried GREAT for the five letter word, even though I was pretty sure that the middle word was TO, but that left me with SPOASY.  Seeing the ASY part helped me to see EASY.  Then I went to TO, which left me with SPGAR.  It was only then that I fully grasped the pun!
Cute father and son bonding moment cartoon.  Great to see both of them wearing goggles.  Safety First!  I think every little kid likes to pound nails into wood.  It's a very satisfying feeling.  As long as you don't hit your thumb!  Be well and do good, friends.)   —   YUR
Images courtesy of Google
Happy birthday to Hugo Ferreira of Tantric!  (Not really my style, but this one is listenable.)