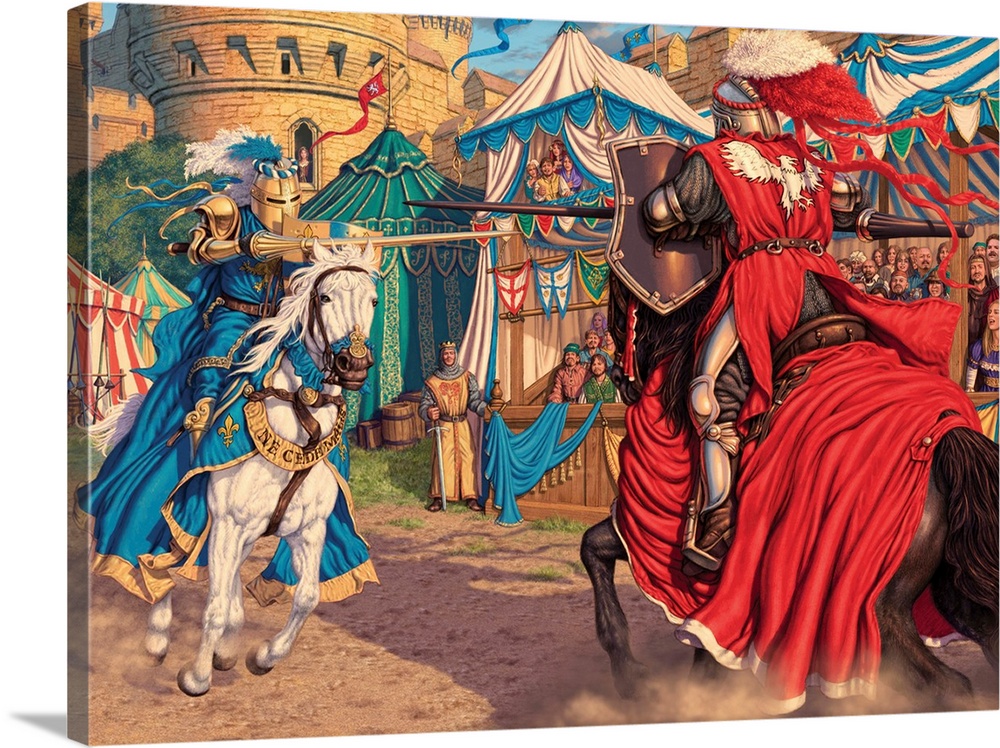 Visual Description:  Joust kidding!
HFETT  =  THEFT,  BNUTL  =  BLUNT,  MCNETE  =  CEMENT,  NIYAML  =  MAINLY   —   Giving us:  TETLNTEMEMAIL
Clue/Question:  A brave knight wearing a suit of armor ready to do battle is an example of – – –
Answer:  METTLE IN METAL
(We haven't had a good homophonic pun in a little while!  I like it.  I rarely, if ever, use the word METTLE.  It's a great word, and it should be used more often.  I wonder if this Jumble idea was suggested to the boys?
All the clue words were very familiar to the Jumble world.  However, all of today's jumbles appear to be new.  None of them tripped me up though.  The answer letter layout was a tremendous thirteen letter jumble.  Wonderfully cryptic.  I was a little surprised how quickly I got the final answer.
Fun cartoon of a medieval jousting tournament.  For some reason, the squire reminds me of Johnny Henshaw-Jacobs, played by Stephen Stucker, in the movie "Airplane!".  I love the scene where it's all going a little crazy, but then it's suddenly black!  The lights come back on, and Johnny's there with the plug in his hand saying:  "Just kidding!".  Hilarious!  In the relatively small newspaper version of the Jumble it looks like the queen is sticking her tongue out at the hero knight!  What's it look like to you guys using the app?  Be well and do good, friends.)   —   YUR
Images courtesy of Google
Happy birthday to Dennis DeYoung of Styx!