Visual Description:  Maritime hobbyist.
SIPEO  =  POISE,  THHCA  =  HATCH,  DERNOV  =  VENDOR,  RPNIAS  =  SPRAIN   —   Giving us:  PIEHTHVEDSPAI
Clue/Question:  He purchased the scale model schooner online and would – – –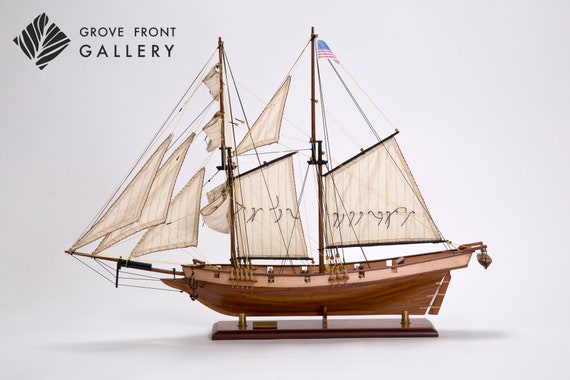 Answer:  HAVE IT SHIPPED
(Oh, yeah.  That's a pretty stinky pun!  How do you deliver a model of a caravel, or a galleon, or a barque, or a carrack, or a clipper?  By parcel post?  Express mail?  UPS, or FedEx?  Any way you slice it, they're going to be shipped . . . whether you like it, or not!  LOL!
Without even looking, I knew that all of today's clue words were repeat customers.  But I always check anyway, just to make doubly sure.  Two of the jumbles appear to be new.  But we've definitely seen both "sipeo" and "thhca" in previous Jumbles.  The answer letter layout was a thirsty thirteen letter jumble.  It was carefully, and lovingly, encrypted.  But the final answer was never in doubt!
Cute cartoon of a cute couple indulging in a healthy leisure time activity.  Building models can be both relaxing and rewarding.  I started with horror movie monsters, like Frankenstein's Monster, and his bride, the Wolfman, Count Dracula, the Mummy, and the Creature from the Black Lagoon.  Then I moved on to WWII fighter planes.  Then to hot-rods.  I may have had some kind of a large ship, but I think I put it off for a long time and ended up loosing some key pieces.  I'm pretty sure I never completed it.  Ooh, but I did also build a Viking ship!  Nice trip down memory lane!  Be well and do good, friends.)   —   YUR
Images courtesy of Google