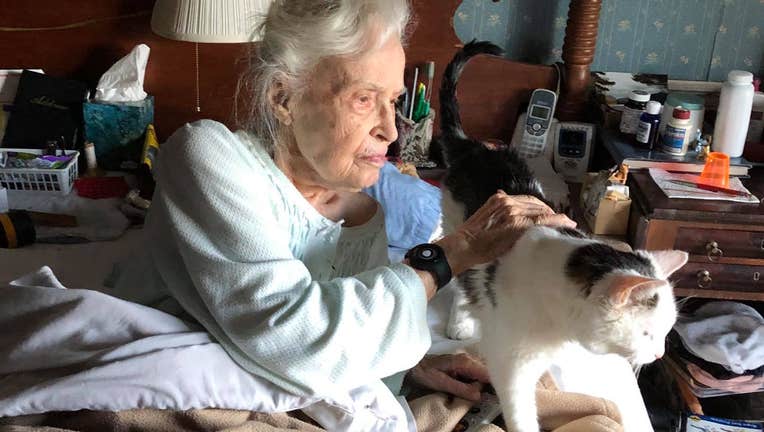 Visual Description:  The lap warmer.
RTEGI  =  TIGER,  RMICP  =  CRIMP,  QLASUL  =  SQUALL,  EEMURS  =  RESUME   —   Giving us:  TERRPSQURUE
Clue/Question:  Her cat wanted attention, so she gave him some – – –
Answer:  "PURR" HIS REQUEST
(Easing into the week with a simple stinky pun!  With the A in "squall" and the S in "resume" that could have given us a thirteen letter answer letter layout, to make the answer:  AS "PURR" HIS REQUEST.  Maybe the guys try to avoid going over twelve letters on Mondays???  Who knows?!
All four of today's clue words already appear in the ralis95 clue word database.  Three of the jumbles came up as new.  But we have seen "rmicp" before.  It took me a few looks before I saw "resume".  Funny how that word has two meanings.  They could be related though, when you stop and think about it.  The answer letter layout was an elegant eleven letter jumble.  This is one of those where the letters Q and U are almost like another clue!
Cute cartoon of a cat lady and her kitty.  That's a pretty big cat!  I bet he's bigger than David or Jeff's dogs!  I haven't owned a cat since I was a bachelor.  They can be great company.  I just don't have the patience for litter boxes anymore.  And, allowing them out is very harmful to the populations of birds, chipmunks, squirrels, rabbits, etc.  They don't kill because they are hungry.  It's just instinctual for them.  They are natures perfect predators.  Be well and do good, friends.)   —   YUR
Images courtesy of Google