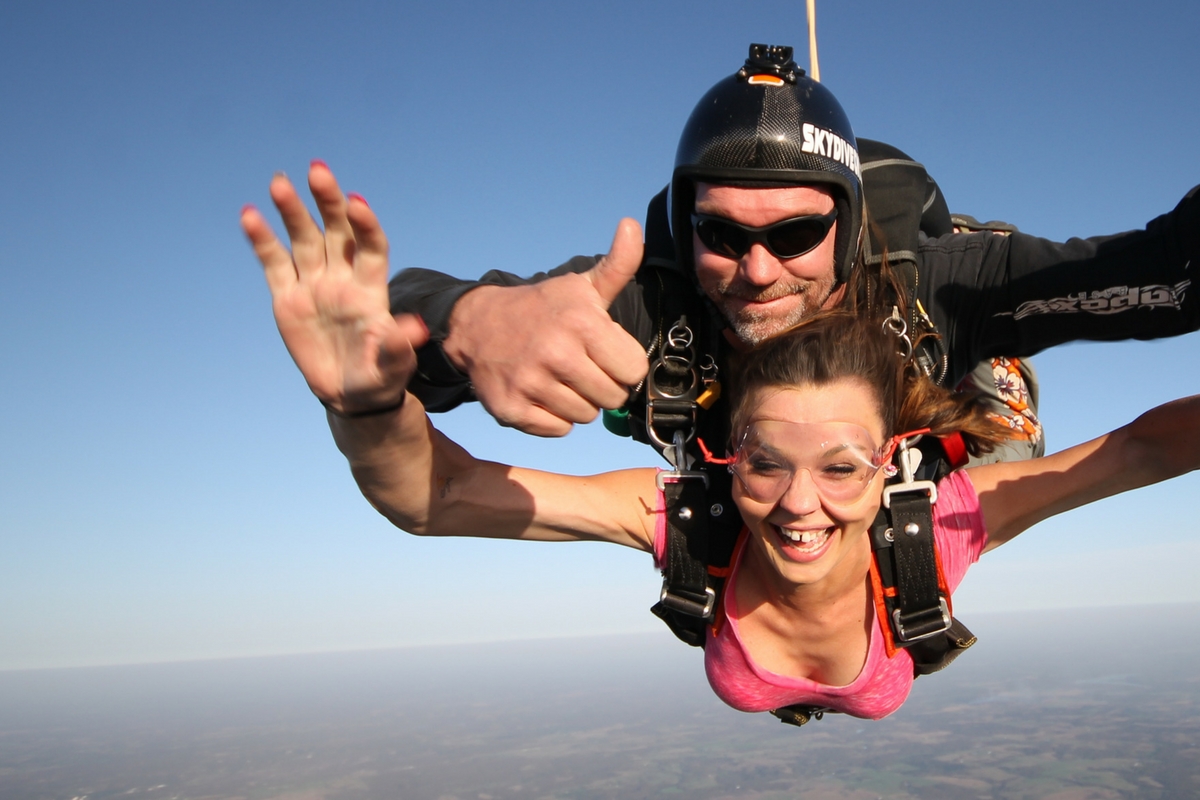 Visual Description:  By the by . . . bye birdie!
SEYZT  =  ZESTY,  OSUEH  =  HOUSE,  JTREEC  =  REJECT,  BNILEB  =  NIBBLE   —   Giving us:  ZETHUERECBE
Clue/Question:  They went tandem skydiving and were able to – – –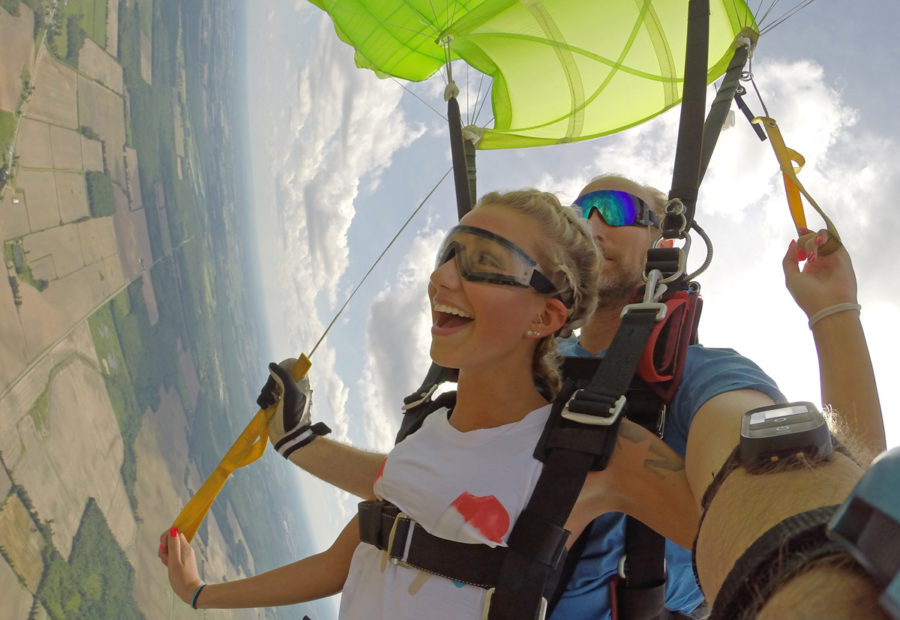 Answer:  "CHUTE" THE BREEZE
(A marvelous stinky pun.  But when you're floating down from three thousand feet I doubt you can smell anything.  I actually did this once, way back in 2005.  Seeing the photos of myself is what inspired me to lose 30 pounds, for my 30th high school reunion.  I got pretty close, too.  I went from 225 lbs – the max weight for tandem skydiving where I went – to 196 lbs.  Over the years I fluctuated from that 196, up to about 215, or so, and back.  But when I was diagnosed with full blown Type II Diabetes I had to drop the weight again, and more so.  At one point I touched the high 170s, but right now I'm around 187 – 190.  My joints seem to appreciate the loss.
All of today's clue words are familiar old friends.  Three of the jumbles are coming up as new for me, but we've definitely had "seyzt" in the past.  They all came to me immediately again today.  The answer letter layout was an elevated eleven letter jumble.  Nicely cryptic.  Buy anytime there's a Z, or a Q, in it I get the final answer quickly.
Great cartoon of the tandem skydivers.  I remember reaching for the ripcord just as the instructor was pulling it.  These guys can't afford to wait for neophytes to wake up and do the right thing.  And, I don't know if they say this as a joke, but they told me to scream "Geronimo" as we just jumped out of the plane.  Big mistake!  When you're free-falling you're going about 120 miles an hour.  The moment I opened my mouth the air rushed in and evaporated every bit of moisture I had!  I might have gotten GER out, but that was it.  That could partly be why I hesitated a bit to pull the cord.  It took me some time to recover from the extreme dry mouth!  But the slower ride down was really cool.  You can really see for miles and miles.  Great memory!  Be well and do good, friends.)   —   YUR
Images courtesy of Google
Happy birthday to Ronnie McNeir of The Four Tops!  (Every bit as good as The Temptations, in my opinion.  Even though they don't have a Broadway show . . . which I saw last month!)