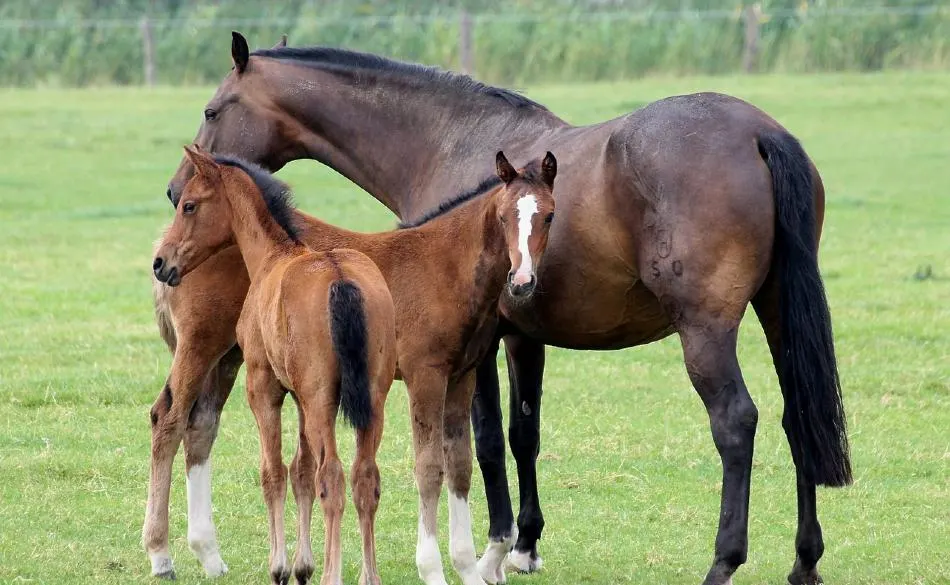 Visual Description:  Stable family life.
NIHEW  =  WHINE,  RPTAA  =  APART,  CPIRST  =  SCRIPT,  DBOYNO  =  NOBODY   —   Giving us:  WHEARSRNOD
Clue/Question:  When the colt showed off his art skills by sketching his sister, it was – – –
Answer:  HORSE–DRAWN
(Aaw!  A cute, stinky pun.  Not sure why he had to draw his sister.  I guess Mommy Mare is too old to run in the Kentucky Derby.  Same would go for his Daddy – not shown.  But his sis is a pretty little filly.  Likely a three-year-old.  And two young horses definitely doubles the cuteness!
All of today's clue words have been used in previous jumbles, and are members of the world famous ralis95 clue word database.  However, all of the jumbles are coming up as new for me.  I didn't struggle to get any of them.  The answer letter layout was a thoughtful ten letter jumble.  Wonderfully cryptic.
Superlative anthropomorphic cartoon!  If you look at the young colt's drawing of his sister you can see the spires of Churchill Downs.  It's a bit of a long shot, but three fillies have won the Kentucky Derby.  There was Regret in 1915, Genuine Risk in 1980, and Winning Colors in 1988.  Feels like we're due for another!  C'mon, girls!  Be well and do good, friends.)   —   YUR
Images courtesy of Google
Happy birthday(s) to Nikki Sixx of Motley Crue, Darryl Jones of The Rolling Stones, and Justin Currie of Del Amitri!