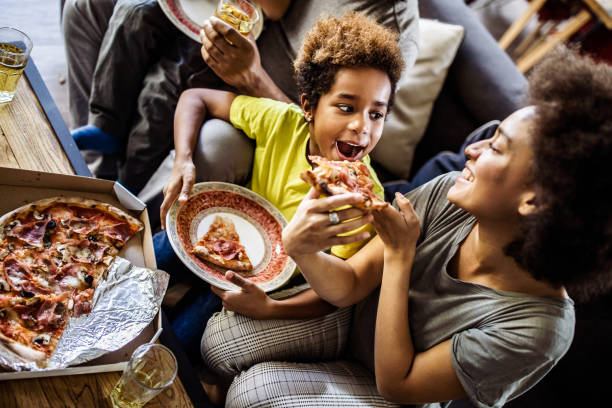 Visual Description:  Mom needs a break.
BHAIT  =  HABIT,  UEQNE  =  QUEEN,  CENRHD  =  DRENCH,  RUYPIF  =  PURIFY   —   Giving us:  AITQEEDENCPUI
Clue/Question:  As the noisy kids grabbed slices of the pizza, mom asked for – – –
Answer:  "PIECE" AND QUIET
(Cute, stinky pun . . . no matter how you slice it!  I'm not going to renew the slice vs. piece war again.  I am at peace with the heathens.  LOL!  My wife ordered a slice of pepperoni pizza for me the other day, but when we picked it up, along with her order, they had an entire pie for us.  I didn't feel like arguing, so I brought the entire pie home with me.  Oh, don't worry.  It didn't go to waste.
All of today's clue words are already on the ralis95 clue word database.  But, it's looking like every one of the jumbles are new!  None of them puzzled me though.  The answer letter layout is a thrilling thirteen letter jumble.  I found it enjoyably cryptic.  The quotation marks, and the Q and U were big clues for me.
Great cartoon of young teen boys and a harried mom enjoying some well deserved pepperoni pizza.  It sure looks like the boys did a number on the other room!  Hopefully, they'll pick up after themselves.  Mom's going to enjoy her slice, and later maybe a nice Calgon bath.  She looks beat!  Be well and do good, friends.)   —   YUR
Images courtesy of Google
Happy birthday to Ingrid Michaelson!