Visual Description:  Amusement maintenance.
DROOE  =  RODEO,  PMEIL  =  IMPEL,  GLHIFT  =  FLIGHT,  CDTEEN  =  DECENT   —   Giving us:  REOIEIGTDNT
Clue/Question:  The carousel wasn't working properly, so the repairman would need to – – –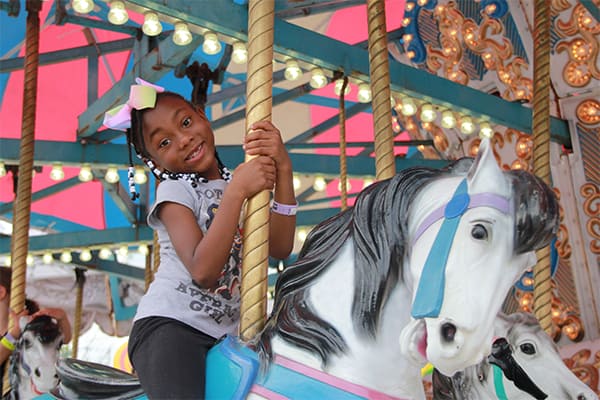 Answer:  GET "RIDE" ON IT
(He'd better!  Can't afford any kids getting hurt.  Especially, in today's society.  People will sue whoever they can, at the drop of a hat.  A California woman is suing Southwest Airlines alleging "racial profiling", because the flight crew was worried that the woman might be trafficking a child.  The woman is white, and her 10 year old daughter is bi-racial.  The mother and child got last minute flights to travel to her brother's funeral, so for their connecting flight – from San Jose to Denver – their seats were not together.  The mother asked a flight attendant if they would help to get them seated together, but the flight attendant apparently couldn't be bothered.  Pretty lame, I know, but that's today's airlines!  But the flight attendant did give the mother permission to ask other passengers if they wouldn't mind moving, and someones were gracious enough to accommodate her.  According to the flight attendants the mother and daughter did not speak to one another, other than the mother telling the child not to speak to the flight crew.  At least that is their story.  The mother denies this.  But the airline said all employees undergo "robust training on human trafficking", so they must look for situations where an adult appears to be unfairly controlling all actions of the child.  Human trafficking is a very real problem in this world, and more often than not it involves children.  The flight crew alerted the Denver police to look into the mother, and upon landing they were met on the jet bridge and questioned.  The police were respectful, saying they were investigating a report of suspicious behavior.  They were satisfied that the two were mother and daughter, and were allowed to go on their way.  But the little girl had started crying because she is afraid of the police.  Southwest could have, and should have, been more apologetic, but most of the airlines are greedy dopes these days, so they didn't do anything to make up for the "misunderstanding".  You can't sue the airline for being callous miscreants, but you can sue them for "racial profiling".  I'm torn, because the airline SHOULD have reached out to the mother with some kind of apology and compensation, but I don't like seeing spurious charges of racial profiling when the flight crew was only doing what they were trained to do.
No new clue words today.  Three of the jumbles appear to be new, but we have definitely seen "drooe" in earlier Jumbles.  "drooe" was the only jumble to trip me up any.  Too many vowels can be confusing.  The answer letter layout was an excellent eleven letter jumble.  I thought it was beautifully cryptic.  But the final answer came to me quickly regardless.
Fine cartoon of the carousel operator and the repairman.  Carousels are wonderful in their beauty and simplicity.  The animal rides are friendly, the music is happy, and it's a gentle ride that kids of all ages can enjoy.  I think that most of us have fond memories of the carousels we've all ridden.  Be well and do good, friends.)   —   YUR
Images courtesy of Google
Happy birthday to Dee Plakas, of L7!