Visual Description:  Ichabod Youngman!
LATAOF  =  AFLOAT,  JASUDT  =  ADJUST,  GTRIFH  =  FRIGHT,  DAAOGP  =  PAGODA,  REFTER  =  FERRET,  GUTOHH  =  THOUGH   —   Giving us:  FLADSIGHODAFEEHUH
Clue/Question:  After hearing the jokes, Sleepy Hollow's famous horseman – – –
Pre-Answer:  Four Words  (7-letters)  (3-letters)  (4-letters)  (3-letters)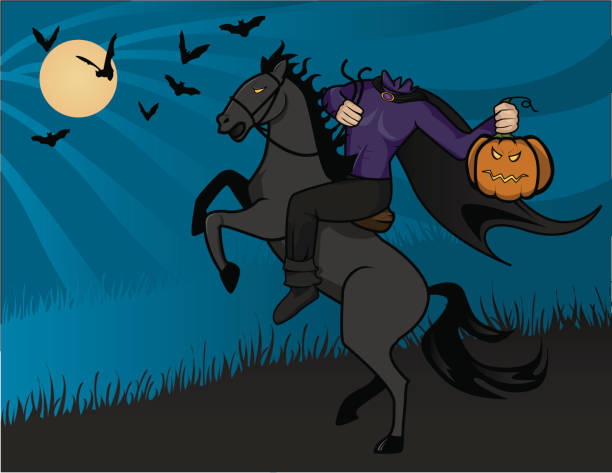 Answer:  LAUGHED HIS HEAD OFF
(A wonderful Halloween Jumble pun!  I'm not particularly fond of Halloween landing on a Sunday though.  In the fall, Sundays are the holiest of holy days.  It is the one day to come together – – – and watch professional football.  And, with that comes the drinking of beer and eating foods that I really shouldn't be eating.  I'll casually watch the Saturday college games, but when it comes to Sunday – – – I'm all business.  There are the few teams that I root FOR, and the numerous teams that I root AGAINST.  The only times that it's not cut and dry is when it's two teams that I despise, playing each other.  Like Dallas vs. New England, or either one of them vs. Tampa Bay.  Then I have to decide which one to ROOT root against!  LOL!
All very familiar old clue words.  Four of the jumbles came up as new, for me.  We've definitely seen both "refter" and "gutohh" in earlier Jumbles.  I was able to see them all right away.  The answer letter layout was a spook-tacular seventeen letter jumble.  I didn't think there was anything obvious about it.  The many clues made solving the final answer relatively easy.
Super-duper period piece cartoon!  It looks like a tavern from the late 1700's – early 1800's.  I think that Washington Irving would approve.  It's a good thing that cat has good reflexes.  Maybe I'll join the boys in a flagon of ale!  Happy Halloween, everybody!  Trick or treat!  Be well and do good, friends.)   —   YUR
Images courtesy of Google