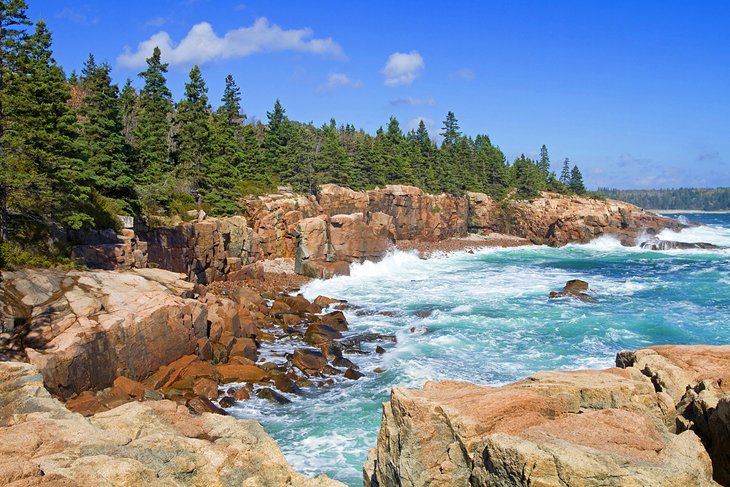 Visual Description: Down East in The Pine Tree State.
RYDTI = DIRTY, SYMSE = MESSY, KNAWEE = WEAKEN, RJANGO = JARGON — Giving us: DIMEENAO
Clue/Question: The female deer living in New England's largest state was very happy with her – – –
Answer: "DOE–MAINE"
(A wonderfully stinky pun! An alternative to this could have been Homer Simpson enjoying his trip here, and having a pine cone drop on his head. Then the answer could have been "DOH-MAINE"! Or, or, or . . . a bread maker vacationing here, somehow resulting in "DOUGH-MAINE"! Can anyone come up with another kind of "DO"???
All of today's clue words are tried and true clue words. Three of the jumbles appear to be new. However, we have definitely seen "rydti" in previous Jumbles. None of them stumped me any. The answer letter layout was a sedate eight letter jumble. Not obvious at all. But the clue/question's dancing around the obvious, and the layout of the final answer slots, made for a quick solve.
Marvelous cartoon of the adorable "female deer", chilling in the grassy field, by the tree-lined shore of "New England's largest state". I really liked the pine trees and pine cones, the little lighthouse in the distance, and of course the tiny classic sinking sailboat on the horizon. I've only been to Maine once, but I think that Jeff caught its essence. Aah, the wonder of Maine! Be well and do good, friends.) — YUR
Images courtesy of Google
Happy birthday to Natalie Merchant!