Visual Description:  Mini-Golf maintenance.
NUDOR  =  ROUND,  SEPIO  =  POISE,  CCLIOA  =  CALICO,  RYUGEN  =  GURNEY   —   Giving us:  RUNOSECLOREY
Clue/Question:  Shutting down while all 18 holes were repaired was their – – –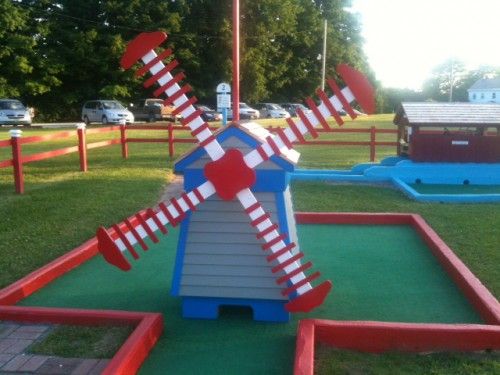 Answer:  ONLY RECOURSE
(Shut it ALL down???  C'mon!  It's putt-putt golf, fer Chrissakes!  It's not The Masters Tournament!  LOL!  Couldn't they keep 9 holes open, while they repair the other 9?  That sounds plausible, to me.  I guess this was the only recourse for this gag to work.  Makes for a great Jumble pun though!
All of today's clue words are already on the ralis95 clue word database.  Three of the jumbles are coming up as new, but we've definitely seen "sepio" before.  I thought that both "cclioa" and "ryugen" were fairly challenging.  I didn't need to back into either of them, but each took some careful thought.  The answer letter layout was a terrific twelve letter jumble.  I didn't know where the heck they were going with this for a while.  I was thinking COURSE, but not seeing RECOURSE.  After checking off the letters for CLOSURE, I noticed there was still an N, O and Y, which clued me into ONLY.  Only then did I see RECOURSE.
Cute cartoon of the mini-golf course.  Plenty of the classic putt-putt obstacles, like the windmill.  I especially like the King Kong holding the little Fay Wray.  I found today's Jumble to be challenging.  Nice job, guys!  Be well and do good, friends.)   —   YUR
Images courtesy of Google
Happy birthday to Joe Perry of Aerosmith!