Visual Description:  Sketchy crosswalk.
SOHECN  =  CHOSEN,  CLAITI  =  ITALIC,  CXTIEE  =  EXCITE,  SBDRAU  =  ABSURD,  BEHLAR  =  HERBAL,  SNNEEU  =  UNSEEN   —   Giving us:  COEITCXISUDRAEEN
Clue/Question:  When the jogging path crossed the road, they – – –
Pre-Answer:  Two Words  (9-letters)  (7-letters)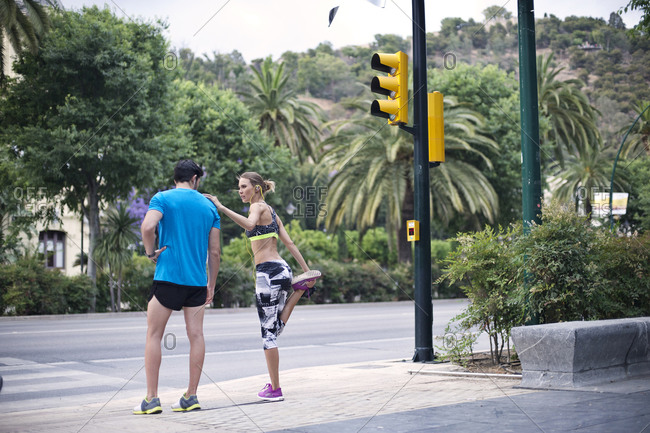 Answer:  EXERCISED CAUTION
(Better safe than sorry!  That was one of my Mom's favorite expressions.  I think it might have been her absolute favorite, I heard it so often.  I could have done with hearing it much less.  But it's way too late for that.  It's been ingrained in my brain.  But I made an effort not to use it that much with my kids.  I believe kids need more encouragement than cowing.
All of today's clue words are old favorites.  Five of the jumbles appear to be new, but we have definitely seen "claiti" in the past.  The only jumble to give me any trouble was "behlar".  I saw the others right away.  The answer letter layout was a spectacular sixteen letter jumble.  But the answer came to me very quickly.  I didn't even check off the letter, so I hope I'm not wrong!  LOL!
Fine cartoon of some joggers in a park.  It's more than a shame that so many people don't obey the rules of the road.  It's criminal.  The drivers who cause bodily harm – or worse – should be prosecuted to the fullest extent of the law, for their selfishness.  Be well and do good, friends.)   —   YUR
Images courtesy of Google