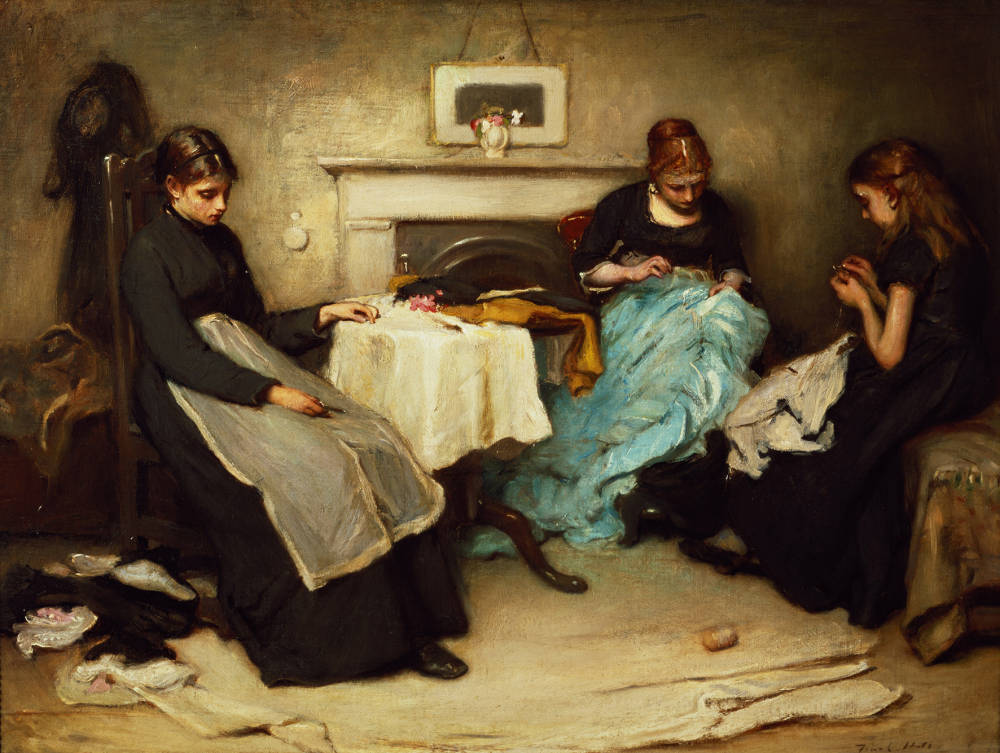 Visual Description:  Seamstresses.
ROGOF  =  FORGO,  UPYSO  =  SOUPY,  SLOENS  =  LESSON,  ATTETL  =  TATTLE   —   Giving us:  ORSPLESTLE
Clue/Question:  Their new line of blouses had become very popular and were  – – –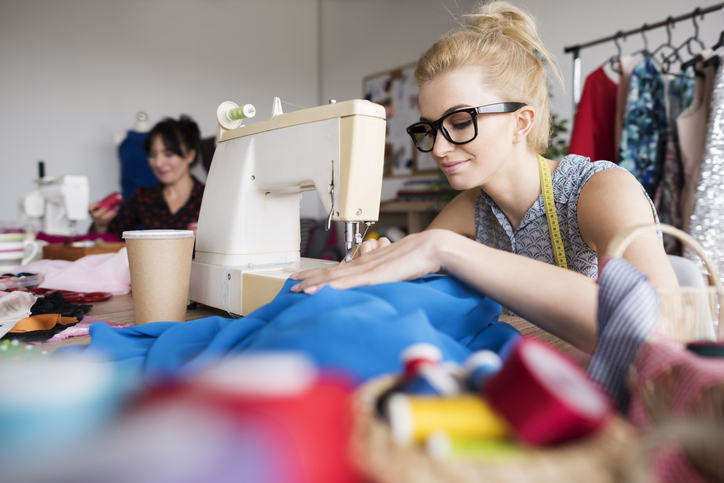 Answer:  TOP SELLERS
(Gee.  I wonder how long before they cancel the word "seamstress"?!?!  It could go the way of "actress", as now there is a huge push to refer to all performers/emoters as ACTORS.  Will they go with "seamsters"??  Hmm.  Might be confused with teamsters.  SeamsX???  Maybe they'll scrap the word entirely, and go with the much fancier couturière.  Although that is feminine also.  All the romance languages are pretty gender specific, but you don't really hear the call for gender neutrality from the French, Italian, or Spanish.  Is it an overall English mania, or is it specific to the United States?  Do the Canucks and Limeys get their knickers in a twist over this stuff?  I'd like to think that they're having a nice little chuckle at our expense.  It seems to me that my liberal brethren have become exceeding dogmatic these days.  That does not suit my mindset.  I guess they'll just have to call me a cafeteria liberal!
We've seen all of today's clue words before.  Three of the jumbles appear to be new, but we've seen "rogof" without question, via earlier Jumbles.  None of them gave me any trouble this morning.  The answer letter layout was a tidy ten letter jumble.  By itself not obvious.  The final answer slots were the big clue for me.
Fine cartoon.  I like the sewing machines in the background.  Why do women's clothing button the opposite way of men's?  Now THAT seams a little pointless to me!  If THAT were to go away you wouldn't hear a peep outta me.  As long as they all button the way I'm used to!  LOL!  Be well and do good, friends.)   —   YUR
Images courtesy of Google