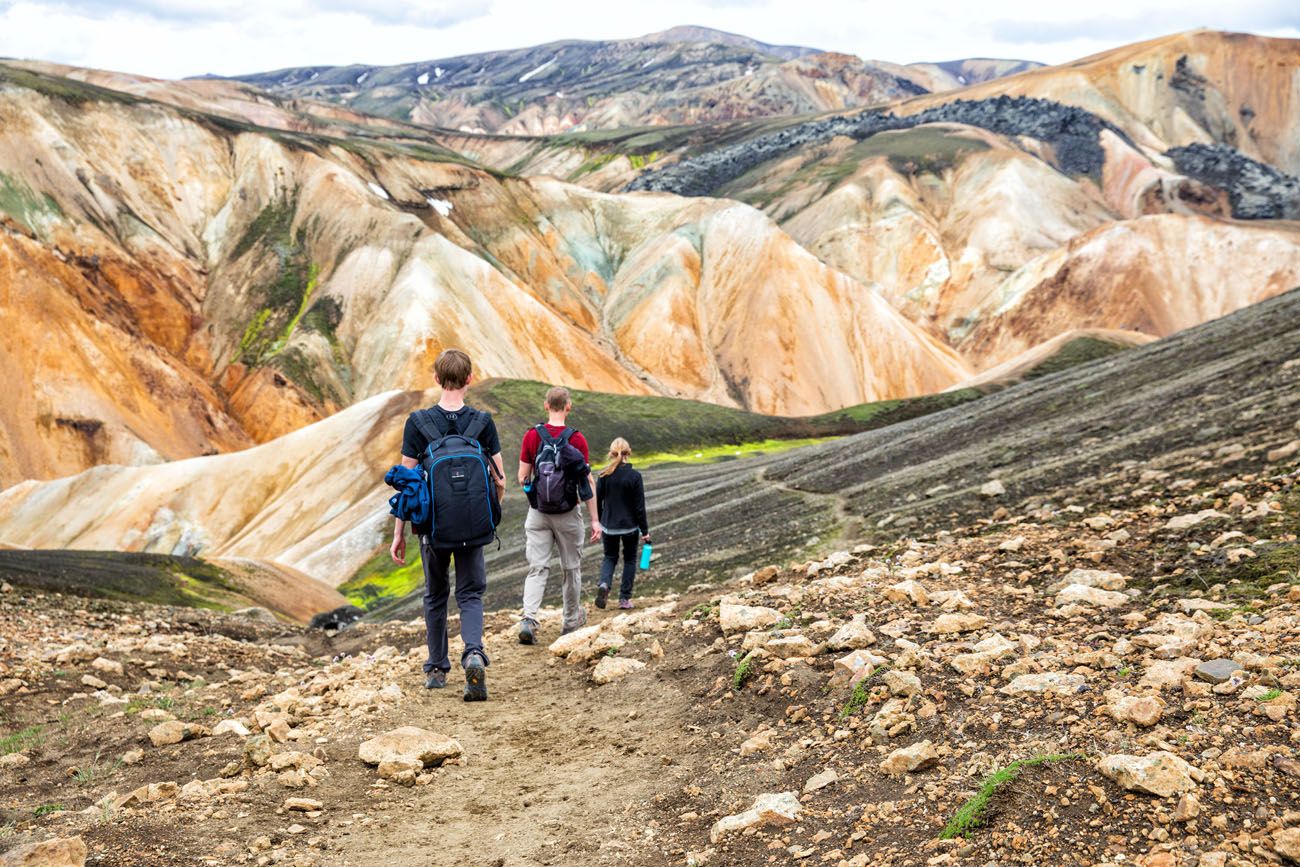 Visual Description:  Two for the trek.
LGEIA  =  AGILE,  HKATN  =  THANK,  MLIPEP  =  PIMPLE,  WSORYD  =  DROWSY   —   Giving us:  ALTHAPIPRSY
Clue/Question:  When the hikers headed out into the national forest, the forest ranger said – – –

Answer:  HAPPY TRAILS
(Oh.  THAT old gag!  It's been a while since the boys dragged out this old chestnut.  Surely, they jest.  No.  They don't.  And don't call the boys Shirley!  One of the best lines from "Airplane"!  I always liked the:  "What do you make of this?" gag, with the control tower guy, who's clearly gay, making a bow and a hat, etc., etc.  The same guy causes a brief blackout, but puts the plug back in the socket and says:  "Just kidding!"  Great stuff!  Makes me want to watch the movie!  What's this got to do with folks hiking a mountain trail?  I dunno.  I just like to go a little off sometimes.
No new clue words today.  It turns out that "manure" from Friday, June 18th's Jumble wasn't really a new word.  We'd had it once before, but it happened on a Sunday, July 7, 2019.  So, it never found its way to the ralis95 clue word database.  I'm sure that it will be on the next edition's.  Three of the jumbles appear to be new.  But we've seen "lgeia" at some point in time.  The answer letter layout was an elusive eleven letter jumble . . . sorta.  With the final answer slots I got it right away.
Nice park ranger cartoon, with some inside gags on the sign.  They mean something to David and Jeff.  To me and you?  Meh!  I hope these hikers stay properly hydrated.  That's usually a concern the higher up you go.  Fun Jumble!  Be well and do good, friends.)   —   YUR
Images courtesy of Google
Happy birthday to both Peter Asher of Peter and Gordon, and Todd Rundgren!