Visual Description:  The business cycle.
NTIEG  =  TINGE,  GDEAA  =  ADAGE,  DEEGNR  =  GENDER,  MOSEKR  =  SMOKER   —   Giving us:  GEDEEMR
Clue/Question:  After they combined their businesses, a new company – – –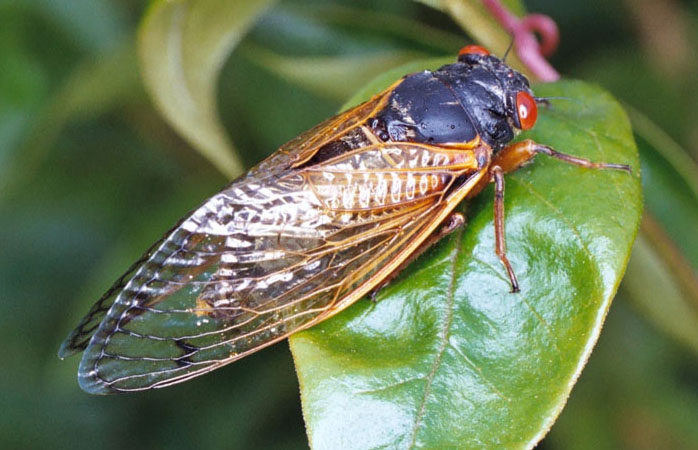 Answer:  EMERGED
(Ooh!  A very topical Jumble pun.  Maybe not stinky, but definitely noisy.  At least in some regions.  Yes, this is the year of the 17 year cicadas.  There are generally some cicadas – Annuals – every summer, but there are some – Periodical Cicadas – that come about every 13 or 17 years.  This year's species are called the Brood X cicadas.  The last big cicada episode to hit the northeast United States was the Brood II cicadas in 2013, and they were pretty darn noisy.  Reportedly, the Brood X bunch could be even noisier!  As of today though they haven't been heard in the lower Hudson River Valley region.  Soon enough, I expect.
There were all old familiar clue words today.  Three of the jumbles are coming up as new for me, but we have seen "gdeaa" sometime before.  I got them all right away.  The answer letter layout was a scant seven letter jumble, but it was adequately cryptic.  The final answer emerged rather quickly.
Fun little business merger cartoon.  I wonder what kind of business Cicely and Grenada are/were, and how the combined name of CI-CADA will benefit the new company going forward.  LOL!  As a kid, I always enjoyed finding the dried cicada exoskeletons clinging to tree trunks.  Much less freaky than the insects themselves.  Very entertaining Friday Jumble!  Be well and do good, friends.)   —   YUR
Images courtesy of Google
Happy birthday to Frank Beard of ZZ Top!