Visual Description:  Under cover of the arbor.
RHTMIE  =  HERMIT,  DMARRED  =  MADDER,  AUPQEO  =  OPAQUE,  SEKUNN  =  SUNKEN,  BMEELM  =  EMBLEM,  RBAELH  =  HERBAL   —   Giving us:  HITDDEAESNEMHA
Clue/Question:  When they had their deck built under a hug maple tree, they had it – – –
Pre-Answer:  Four Words  (4-letters)  (2-letters)  (3-letters)  (5-letters)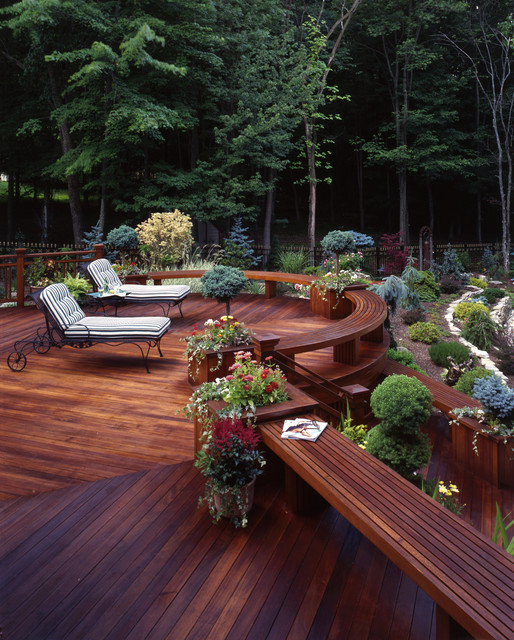 Answer:  MADE IN THE SHADE
(Unless English is not your first language, I think this was probably one of the most obvious/easiest Sunday Jumble answers that I can ever remember.  But the – onetime? – popular expression made for a fine, stinky pun!  Do many people use the phrase much these days?  Sounds like it came out of the 1950s.  Like something Fonzie often said on "Happy Days"!  Not exactly high poetry, but very descriptive.
All of today's clue words already have a pad on the ralis95, you cool Cats and Kitties!  And that is the word from the bird!  Surprisingly, all of the jumbles are coming up as new, for me.  I didn't find any of them too tough though, Daddy-O.  The answer letter layout was a formidable fourteen letter jumble.  Not obvious, in itself.  The combination of the great cartoon, and its great dialog are what gave the answer away.
Fine cartoon of a family chillaxing on their new deck.  It looks very relaxing.  I think I would enjoy a deck like that, but we live in a high/split ranch, so our sliding glass kitchen door opens up to our current deck, which is six feet from the ground.  Maybe my next life.  Be well and do good, friends.)   —   YUR
Images courtesy of Google
Happy birthday to Lenny Davidson, of The Dave Clark Five!
And, Rest In Peace, B.J. Thomas.  😥