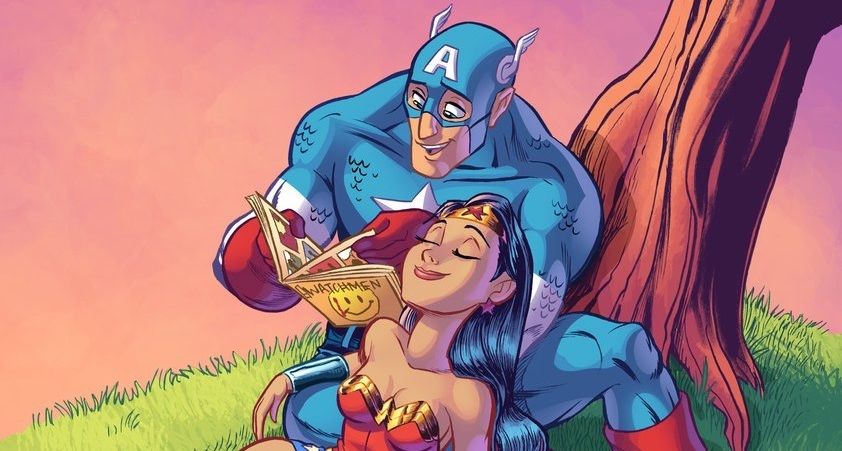 Visual Description:  Julie Justice, of The Jumble League!
SUPAE  =  PAUSE,  GBYGU  =  BUGGY,  ANAOST  =  SONATA,  BEYOMD  =  EMBODY   —   Giving us:  PAUGGNTEOD
Clue/Question:  The superhero was out of bed early with plenty of – – –
Answer:  "GETUP" AND GO
(My get up and go has got up and went!  I'm totally beat, guys.  I've put in 22,707 steps already today, and the day ain't over!  That's about five times as much than on an average day.  But I guess it's good for me.  Better than spending too much time, sitting on my bony butt . . . which I'm doing right now.  Sorry about not posting this earlier, guys.  But I've been a little busy.
No new clue words today.  Three of the jumbles are coming up as new for me, but we've definitely seen "supae" before.  I thought that "beyomd" was a pretty challenging jumble.  The answer letter layout was a tidy ten letter jumble.  Not obvious, but I got the final answer rather quickly.  I think the quotation marks and the answer slots were a big help.
Cute superhero cartoon.  She's got those wrist bands, like Wonder Woman.  And, I always like a good shield!  We don't often get superhero cartoons.  Be well and do good, friends.)   —   YUR
Images courtesy of Google
Happy birthday to Siouxsie Sioux, of Siouxsie and the Banshees!