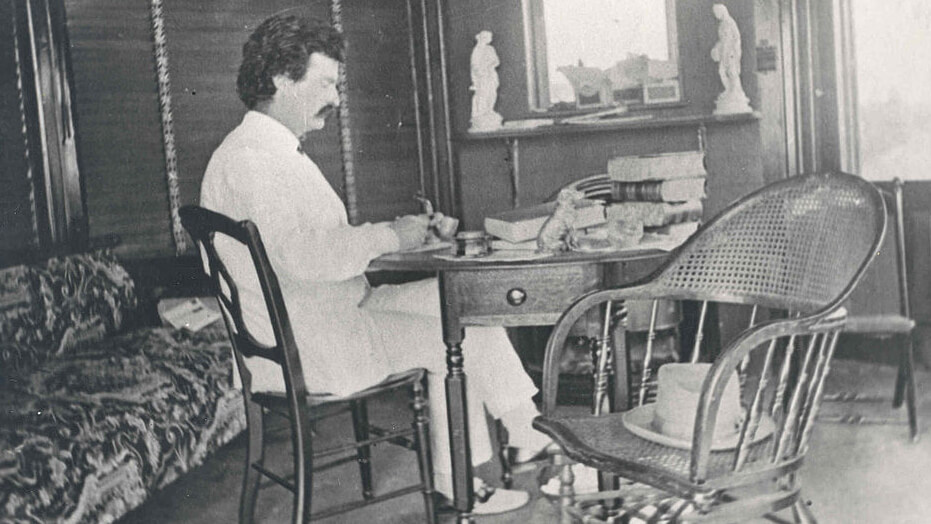 Visual Description:  Explaining the nom de plume to his brother Orion.
SAYILE  =  EASILY,  NCATCE  =  ACCENT,  PMATIC  =  IMPACT,  MCTMIO  =  COMMIT,  AYEDLR  =  DEARLY,  GITRHF  =  FRIGHT   —   Giving us:  ESLAENIMAMMDEAFH
Clue/Question:  When Samuel Langhorne Clemens started going by Mark Twain, he – – –
Pre-Answer:  Five Words   (4-letters)  (1-letter)  (4-letters)  FOR  (7-letters)
Answer:  MADE A NAME FOR HIMSELF
(I really like the fact that Twain's name change had an understandable reason to it.  There are far too many writers who adopt names that might sound nice, but don't seem to have much reason behind them.  Voltaire and Moliere come to mind, but there have been many others.  Yer uncle likes things he can easily understand.  Abstractions generally don't do it for him.
It's always good when the Sunday Jumbles have well established clue words.  Our friend ralis95 doesn't get the Sunday Jumble, and doesn't seem to receive the emails from this blog.  Five of the jumbles are coming up as new, for me.  But we have seen "sayile" before.  None of the jumbles tripped me up any.  The answer letter layout was a very impressive sixteen letter jumble.  I thought it was above average on the cryptic scale.  I think the arrangement of the final answer slots gave me the quick resolve.
Mighty fine period piece cartoon!  One might think that this is the Mississippi River in the background, but it looks like Sam had moved out west to the Nevada Territory, with his brother Orion, at the time of his name change.  So, maybe a little artistic license.  There are probably rivers and creeks somewhere around Virginia City, Nevada.  He had tried his hand at mining out there, but was unsuccessful.  Writing, and later public speaking, is what paid the bills for him.  Good, clean fun Jumble though.  Be well and do good, friends.)   —   YUR
Images courtesy of Google
Happy Birthday to Phil Selway of Radiohead!