Visual Description:  Astronomy class.
LYSMFE  =  MYSELF,  CLRGIA  =  GARLIC,  RNEPOS  =  PERSON,  PHANPE  =  HAPPEN,  LNXUIF  =  INFLUX,  CANNEU  =  NUANCE   —   Giving us:  MELGAIPSHEIXNN
Clue/Question:  When it comes to G-Type Main-Sequence stars, our Sun is a – – – 
Pre-Answer:  Two Words  (7-letters)  (7-letters)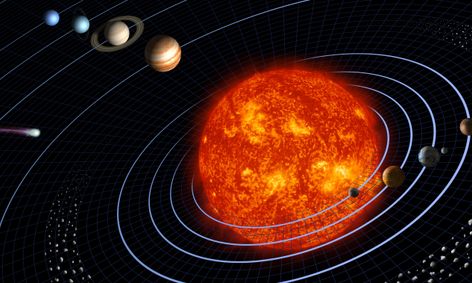 Answer:  SHINING EXAMPLE
(Who knew that Earth, Wind and Fire were singing about the Sun with "Shining Star"?  No, not really.  That was too easy.  And, I might have chosen that song to go along with today's spoiler, except I already promised a song to our resident . . .  eccentric Ken.  Today's Jumble answer was a glowing illustration of a good, stinky pun!  I actually considered the first of the final answer words to be GLOWING, except there were no O's or W's, and only one G.
No new clue words today.  They are starting to get as rare as hen's teeth!  However, five of the six jumbles have come up as new, for me.  The only one that's definitely been used before is "canneu".  I was thinking that "nuance" just might be a new clue word, but no.  The answer letter layout was a formidable fourteen letter jumble.  Nothing jumps out at you.  The combination of the cartoon's dialog, and the leading nature of the clue/question, made for a relatively quick solve.
Fine cartoon of a high school, or college, science lecture.  I like how the teacher/prof is sporting a goatee and a ponytail.  Fine Sunday Jumble.  For our friend Randy's edification, it seems that the reality portion of the movie "The Princess Bride" takes place in Evanston, Illinois, which – of course – IS a suburb of Chicago.  This tidbit of trivia was supplied to me by a little bird, who has chosen to remain anonymous.  I haven't seen the movie in quite some time, but it's a splendid story, with an all-star cast.  Coincidentally, I just watched the last half hour or so of another Fred Savage move from around that same time, called "Vice Versa", with Fred Savage, Judge Reinhold and Corrine Bohrer, just yesterday afternoon.  It too was a very cute movie.  Nothing like "The Princess Bride", but still entertaining.  The young Fred Savage was adorable, and a pretty good little actor too.  Be well and do good, friends.)   —   YUR
Images courtesy of Google
This is for Ken.  It's a little something off ZZ Top's Fandango album!