Visual Description:  Jeff's homage to his lovely wife, Kathy.
TAUHSI  =  HIATUS,  LIRLGE  =  GRILLE,  LHNEIA  =  INHALE,  TAAUCL  =  ACTUAL,  DSORHU  =  SHROUD,  FNULNE  =  FUNNEL   —   Giving us:  HIGRIIAECLSRDNN
Clue/Question:  The mom who held her kids in her arms loved – – –
Pre-Answer:  Three Words  (7-letters) HER (8-letters)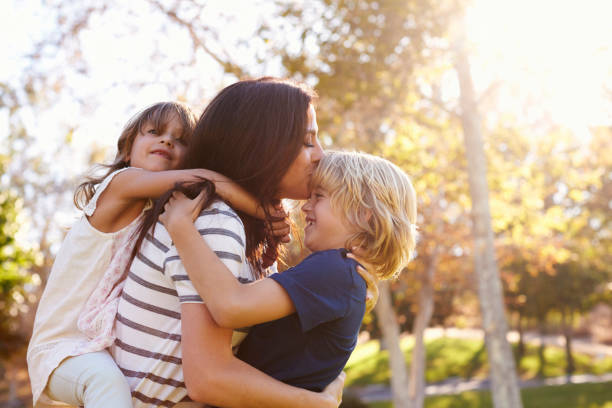 Answer:  RAISING HER CHILDREN
(Aww!  Happy Mother's Day to all the lovely mothers out there!  My son and daughter came over with my wife's favorite Korean food, and now everyone is relaxing on the couch.  One of my step-sons has checked in, and sooner or later we'll also hear from the other one too.  Of course, I bought her roses, chocolates, a card, and one of her favorite baked goods too.  She'd rather stay in with family than going out to some overcrowded restaurant.
There is no need to alert ralis95 today, as there are no new clue words.  However, all six jumbles appear to be new, to me.  I had a little trouble with "grille", even though I pretty much knew it couldn't be anything else.  The answer letter layout was a fantastic fifteen letter jumble.  Nicely cryptic.  I saw CHILDREN first, then quickly figured out RAISING.
Great cartoon of Mrs. Kathy Kent-Knurek, and a younger Sydney and Cam.  I think a lot of us parents always kind of think of our kids as they were when they were little.  Those kind of memories just get etched into the brain, and I'm sure we'll take them with us to the grave.  If your mom has passed on, raise a glass to her memory, and tell her how much she meant to you.  Be well and do good, friends.)   —   YUR
Images courtesy of Google
Happy birthday to Billy Joel!