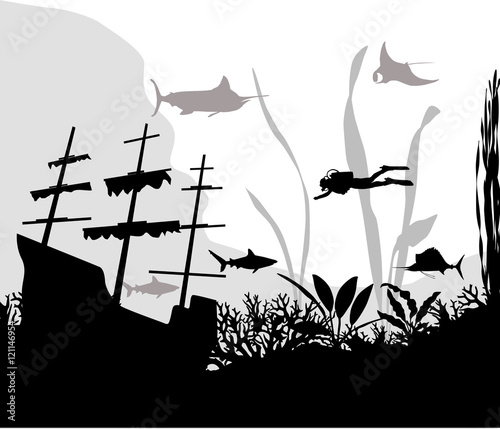 Visual Description:  Alone again, naturally.
ESYED  =  SEEDY,  ILFYL  =  FILLY,  COILAS  =  SOCIAL,  DOEUXS  =  EXODUS   —   Giving us:  EELLSOOS
Clue/Question:  When the marine flatfish was the only fish around, it was the – – –
Answer:  SOLE SOLE
(A stinky pun, yes.  But I loves me a nice fillet of sole!  It's one of the few fishes that I actually enjoy eating.  I also like swordfish, and tuna steaks.  I like the meatier fish.  But – surprisingly – I have zero interest in shellfish.  I'll leave all of those bottom dwellers to the rest of y'all.
No new clue words today.  Our friend ralis95 can get back to having cocktails by the pool.  All of today's jumbles did come up as new for me though.  None of them were too demanding though.  The answer letter layout was an easy eight letter jumble.  Especially considering the final answer slots, and the clue/question.
Fine depiction of a lonely soul . . . er, sole . . . at the bottom of the ocean.  Yeah, they're considered bottom-feeders, but I don't need all that iodine and tropomyosin.  I always enjoy when Jeff gives us the result of the classic sinking sailboat.  Hey, it's got to end up somewhere!  Be well and do good, friends.)   —   YUR
Images courtesy of Google
Happy Birthday to Bob Seger!