Visual Description:  Passing down his mitt.
NAGTI  =  GIANT,  TCCAH  =  CATCH,  EECDDO  =  DECODE,  SKARHN  =  SHRANK   —   Giving us:  GANCAHDEDSHN
Clue/Question:  When he gave his baseball glove to his little brother, it – – –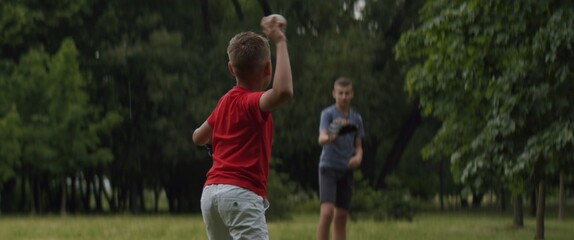 Answer:  CHANGED HANDS
(That's a good older brother.  A new baseball glove kind of sucks, until it gets broken in.  This kid is pretty much good to go.  No oiling it, and tying it up with a ball inside it.  It's already supple and flexible.  Play ball!
All hand-me-down clue words today.  Three of the jumbles are coming up as new, for me.  But we've definitely seen "nagti" at some point in time.  They all came to me right away today.  The answer letter layout was a twisty twelve letter jumble.  It did a fine job of masking the final answer.  But I was a little surprised how quickly that final answer came to me.
First-rate cartoon of some baseball diamonds.  I liked the occasional dandelion poking out of the grass.  A little strange seeing a – real – wooden bat.  Little League uses the aluminum ones, and I think high schools do too.  Looks like a great day to play a game .  Kinda like today!  As Ernie "Mr. Sunshine" Banks would say:  "Let's play two!"  Be well and do good, friends.)   —   YUR
Images courtesy of Google
Happy birthday to Herb Murrell, of The Stylistics!