Visual Description:  No meatballs in brown gravy here!
AXLHEE  =  EXHALE,  TYIRRA  =  RARITY,  KUBREE  =  REBUKE,  SEWBOT  =  BESTOW,  SNGEIN  =  ENSIGN,  NTCUUK  =  UNTUCK   —   Giving us:  EHAIYRBESWESTK
Clue/Question:  The shop that sold cakes, pies, cookies, etc. in Stockholm was a – – –
Pre-Answer:  Two Words  (8-letters)  (6-letters)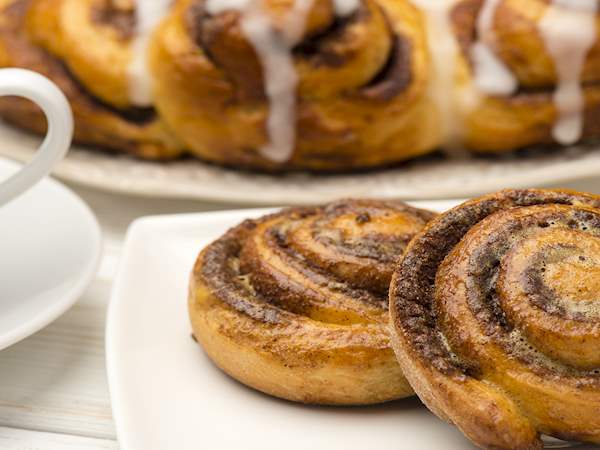 Answer:  "SWEETISH" BAKERY
(Okay.  How many of you were like me, and said:  what the heck is a kanelbulle?  Unless you're related to Rose Nylund, of "The Golden Girls", you probably didn't have a clue either.  Thank goodness for the magic of Google!  From there you probably found out that they're what most of us call cinnamon rolls!  I loves me a good cinnamon roll!  Or two, or three.  Probably why I'm a Type 2 Diabetic!
Shocker of all shockers!  David L. Hoyt has dropped on us a new clue word today, in "untuck".  As much as I dislike UN words, I had no trouble coming up with this word.  All of the jumbles, with the exception of "sewbot", came up as new.  I must have been in the groove, as none of them tripped me up today.  The answer letter layout formed a fantastic fourteen letter jumble.  Nothing really jumps out at you.  But with Stockholm in the clue/question, and the quotation marks surrounding the first final answer slots, I knew that it had to be a play on Swedish.  And, the cartoon made it very obvious that they were in a BAKERY.
Very tasty bakery scene cartoon.  I'll take Jeff's word that that's what the Stockholm skyline looks like.  Eh!  No, I won't!  I was going to give you a picture of Rose, but I'm giving you Stockholm instead.  Like it?  Looks beautiful, to me!  Now run out and buy some kanelbulles!  Be well and do good, friends.)   —   YUR
Images courtesy of Google