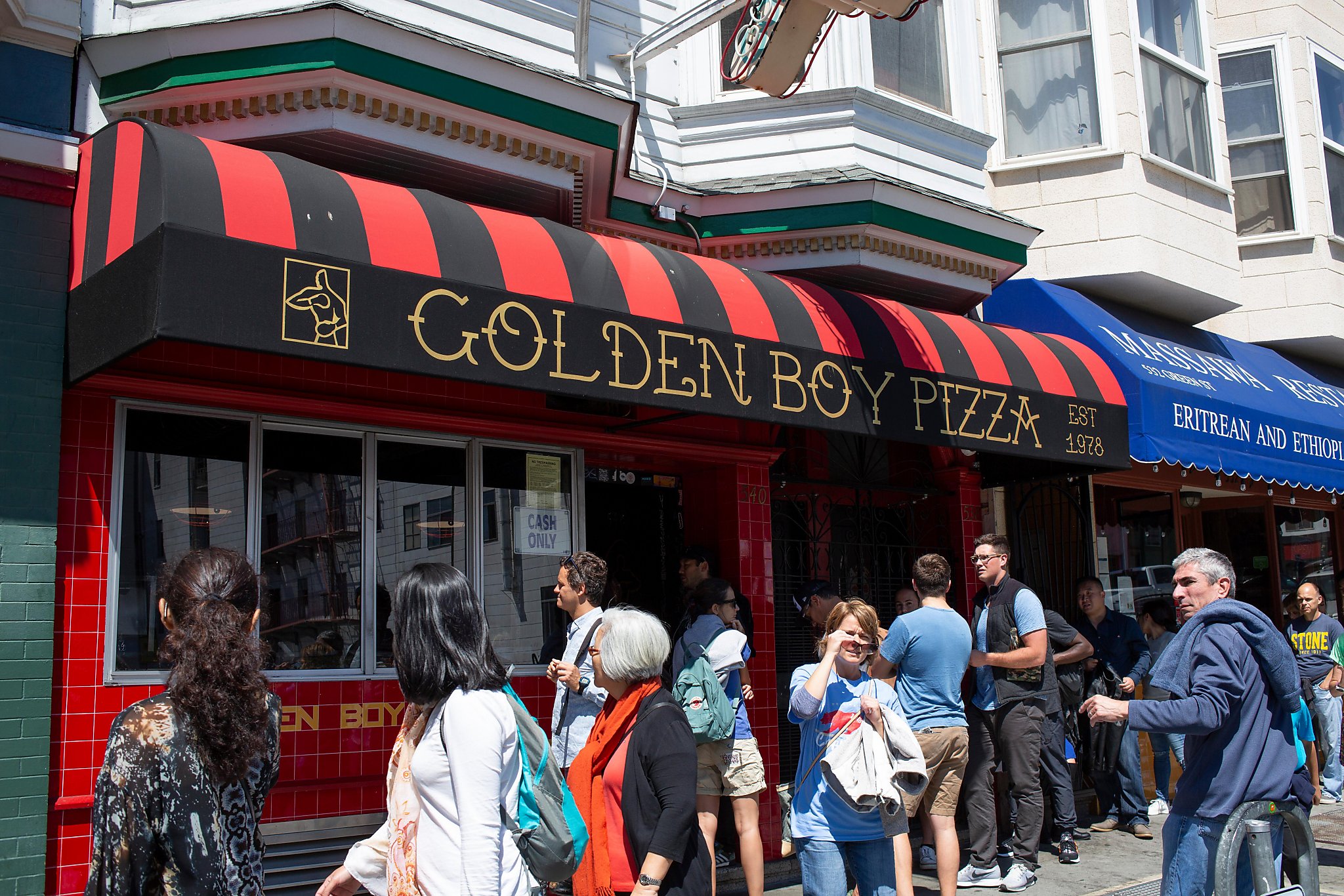 Visual Description:  People waiting for some pizza.
IRRVE  =  RIVER,  BANIC  =  CABIN,  UFNRIA  =  UNFAIR,  NCAYAR  =  CANARY   —   Giving us:  REBUNAY
Clue/Question:  The new store was doing so well because there were plenty of customers – – –
Answer:  "NEAR–BUY"
(I'm telling you guys, sometimes I think yer uncle is losing it!  Instead of writing CANARY I wrote down CRAYAN, convincing myself that I had written CRAYON.  Of course there are two A's and no O's, but that didn't stop me.  I was certain that I was right.  I haven't preached this in quite a while, but some/most of you know that I think that the biggest mistake/sin we can make is certainty.  We THINK we know something, but that's not always the truth.  Sometimes it's because we've been lied to, and sometimes our perceptions change.  For a few thousand years people thought that the earth was the center of the universe, and the sun revolved around it.  Copernicus showed that the sun was our center, and the earth – and other planets – revolved around it.  This idea was considered heresy by the Catholic Church, so ol' Nikolai kept his mouth shut.  About a hundred years later Galileo had the balls to actually put it out there.  The Church arrested him, and kept him under house arrest until his death in 1642.  The Catholic Church didn't formally acknowledge Heliocentrism for nearly 200 more years, until 1822.  There are things we might never know for sure, but we've been *trained* to think that we know.  And of course we really don't/can't possibly know, but that doesn't stop us from being good, obedient followers in our mis-perceivings.  Anyway, I screwed up.
All of today's clue words are familiar old friends.  Three of the jumbles appear to be new, but we have definitely seen "irrve" before.  The – correct – answer letter layout was succinct seven letter jumble.  Even with the correct letters it took me a while to get the pun.  I was going to put this out there for you guys to tell me the answer, before the spell-check told me that CRAYAN was wrong.  I think that comes from my childhood, where we didn't pronounce the word cray-on.  We just said cran!  My people also don't say car-a-mel.  It's simply carmel.  Regionalisms!  Anyway, it's a good thing that WordPress has a spell-check!
Interesting cartoon.  I wonder if Paul's Pies is an actual pizza shop, or just a creation of Jeff's imagination?  Does Indiana go traditional crust, or deep-dish?  Mamma Mia!  Be well and do good, friends.)   —   YUR
Images courtesy of Google
Happy Birthday to Agnetha Faltskog of ABBA!