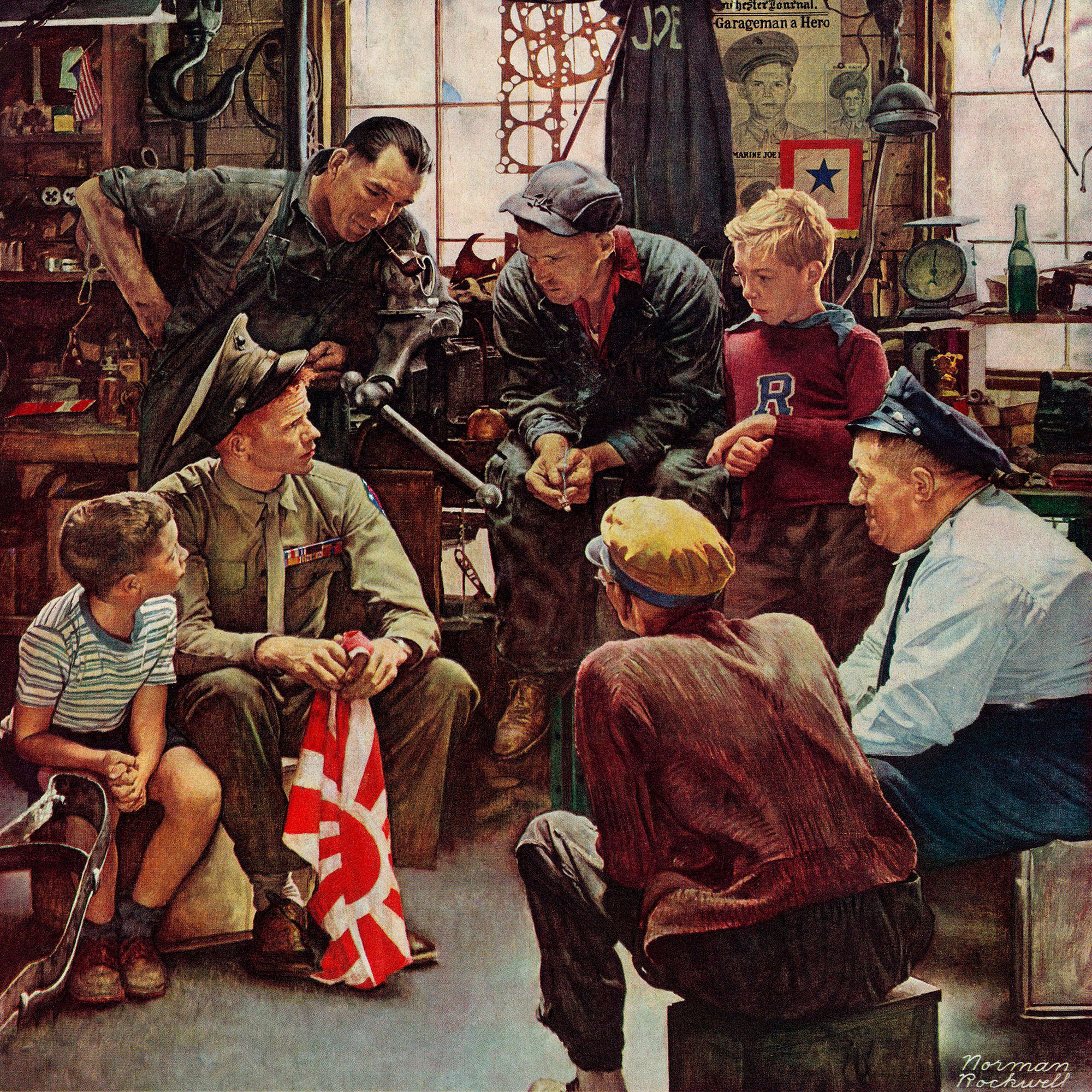 Visual Description:  An Americana arcade.
YNELLO  =  LONELY,  RDAWTO  =  TOWARD,  DRHIBY  =  HYBRID,  DGLUES  =  SLUDGE,  TVAANC  =  VACANT,  RNAWID  =  INWARD   —   Giving us:  ELTOWHRSLEVCAIR
Clue/Question:  They purchased enough Norman Rockwell "Saturday Evening Post" artwork to – – –
Pre-Answer:  Three Words  (5-letters)  (5-letters)  (5-letters)  
Answer:  COVER THEIR WALLS
(For everybody under the age of 50, this is because Norman Rockwell works adorned the covers of the weekly magazine, "The Saturday Evening Post", back in the heyday of weekly magazines.  It's been around since 1897, and ran as a weekly until 1963.  From '63 until '69 it ran every two weeks.  They folded for a couple of years, and came back as a six editions a year thing.  I did not even realize that.  I thought they were dead.  One thing's for sure, Norman Rockwell is dead!
All of today's clue words are Jumble classics.  Nothing new.  Five of the jumbles are coming up as new for me, but we have seen "dglues" before.  The answer letter layout was a fabulous fifteen letter jumble.  Wonderfully cryptic.  I think the cartoon, its dialog, and the clue/question combined to give me COVER.  Then the rest was very evident.
Jeff did a great job of recreating some of the more iconic Rockwell covers!  It might be considered a bit kitschy to snootier types, but I think most people enjoy Norman Rockwell works.  They just take you back to a simpler, more certain time in American life.  The kind that so many of us long for.  Happy Easter, folks!  Be well and do good, friends.)   —   YUR
Images courtesy of Google