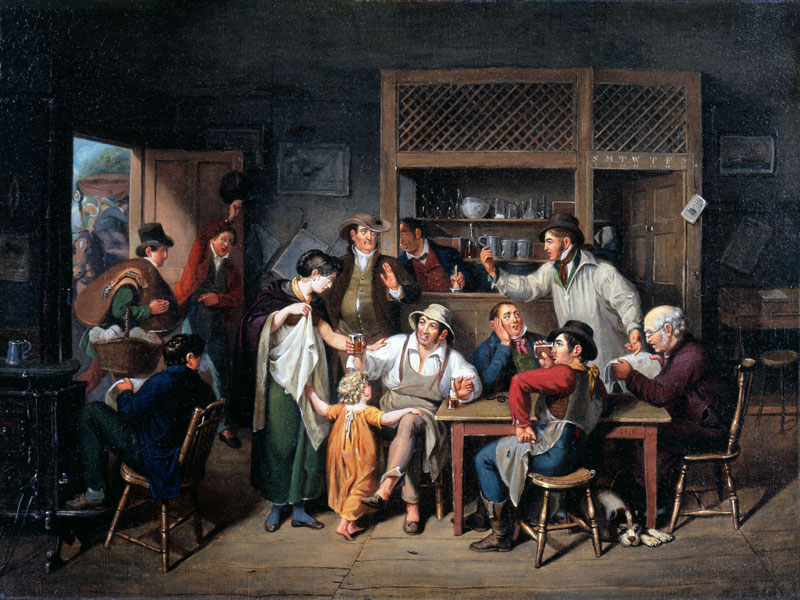 Visual Description:  Founding . . . nephews?
THHCA  =  HATCH,  EUGGO  =  GOUGE,  NRREOY  =  ORNERY,  NFTIEI  =  FINITE   —   Giving us:  HTHUGORRFIT
Clue/Question:  People who voted for James Madison to be U.S. President thought he was – – –
Answer:  "FOURTH–RIGHT"
(Well?  He was THE fourth.  Right?  President that is.  Maybe next the guys could come up with a Jumble involving James Monroe and 750 milliliters – or 25.4 ounces – of hootch!  Because . . . he was the fifth U.S. President.  Then, maybe they could do a Sixth Sense kinda thing with John Quincey Adams!  Somebody STOP ME!
All of today's clue words were familiar old friends.  Three of the jumbles are coming up as new, but we've definitely seen "nrreoy" before.  No stumpers today, for me.  The answer letter layout was an elevated eleven letter jumble.  I saw RIGHT first, and a little later FOURTH.  I thought this was another excellent Jumble!
And, you guys know how I love Jeff's period piece cartoons!  So, I guess this must be sometime in 1808.  It looks like these guys are talking politics . . . in a tavern.  Imagine that.  LOL!  Be well and do good, friends.)   —   YUR
Images courtesy of Google