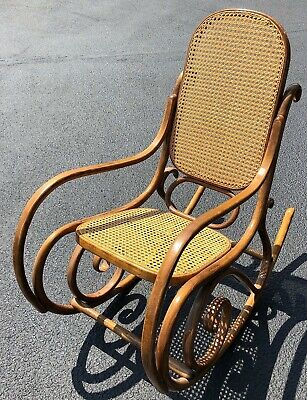 Visual Description:  The family heirloom.
CNRIE  =  NICER,  GAMIE  =  IMAGE,  TNARSD  =  STRAND,  GRIEHH  =  HIGHER   —   Giving us:  ICRIASTHIH
Clue/Question:  The rocker had been in their family for generations, and they would – – –
Answer:  "CHAIR–ISH" IT
(Now this is truly a bad, stinky pun!  Even yer Uncle will concede this point.  But, it put me in mind of a corny old song from the 1960s, by a group called The Association.  They were kinda the nerdy version of The Beach Boys.  Beautiful harmonies, but oh so corny lyrics.  My wife digs all these cornball songs.  She's a big fan of The Association and especially The Lettermen.  I let her drag me to a Vegas show of The Lettermen a few years ago.  And, even though I'm not really a fan, I have to admit that they are very talented, and they put on a great show.
Stop the presses!  We have breaking news.  HEADLINE NEWS, actually!  David L. Hoyt has actually come up with a brand new clue word, in "nicer"!  Yes, the long drought is finally over.  I won't hold my breath waiting for the next one, but there is some cause for minor celebration.  Hopefully, our dear friend ralis95 is all healed, and able to update his world famous clue word database.  I have been remiss in checking up on him.  Shame on me.  Two of the jumbles are coming up as new, but I know that we've seen "gamie" and "griehh" in the past.  Would you believe that I had to back in to "nicer"?!!  I started off seeing "rince" – for rinse – and  then just kind of spun my wheels.  Fortunately, the final answer was pretty easy, with the quotation marks and the hyphen.  But, even then it took me a few looks to get "nicer"!  Maybe I need to be nicer?
Great multi-generational family scene cartoon.  Besides the awesome rocking chair, I see a nice looking crib behind the impending Grandma and Great Grandmas.  This whole thing has put me in a corny mood, so I'm going to give you both The Association and The Lettermen songs.  Be well and do good, friends.)   —   YUR
Images courtesy of Google