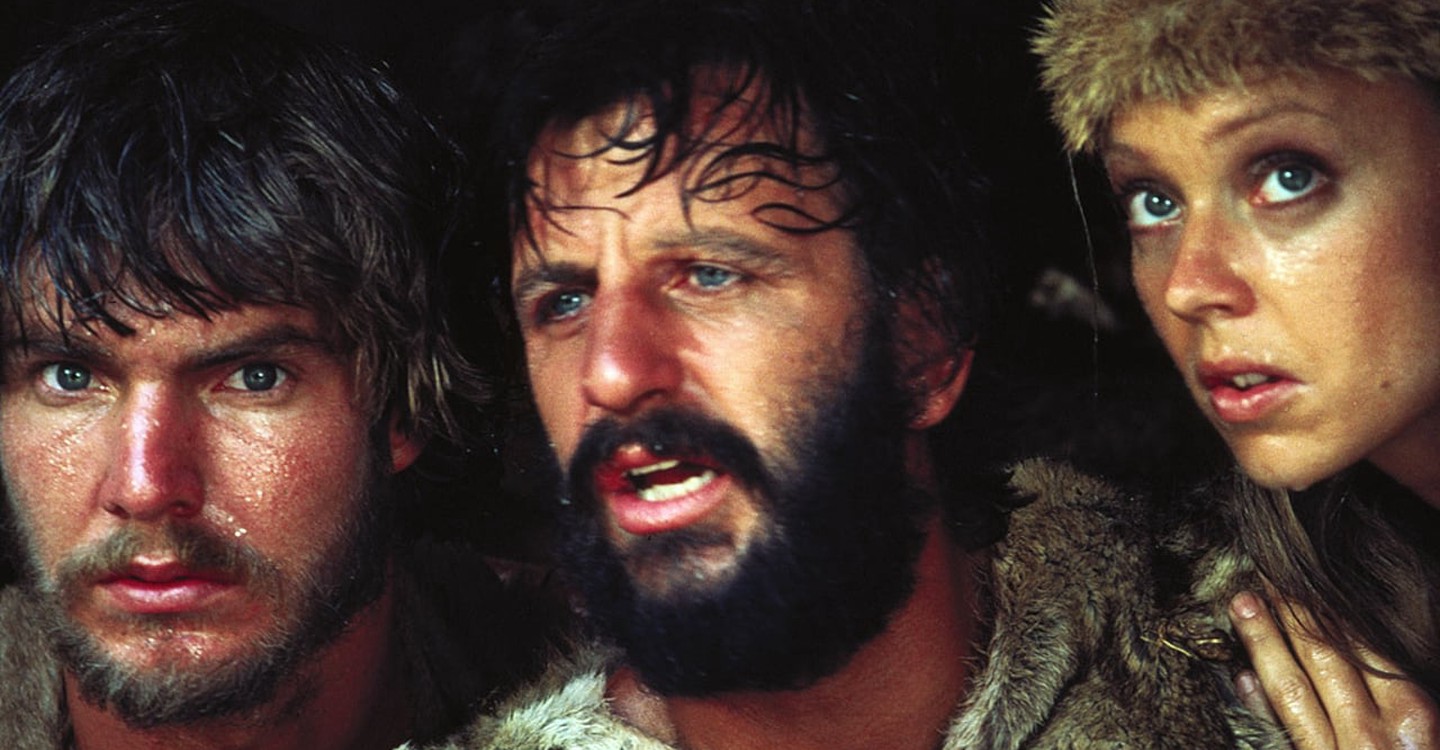 Visual Description:  Atouk and Lar invent the spear.
EEOSB  =  OBESE,  RITDH  =  THIRD,  TOCEIP  =  POETIC,  CLEHNI  =  LICHEN   —   Giving us:  OBSTDPEIIEN
Clue/Question:  The spear was crudely made from a branch and a rock, but that was – – –
Answer:  BESIDE THE POINT
(Early on in the arms race?!  Well after rocks and clubs.  And, soon after your basic sharpened stick, no doubt.  But, all within the Stone Age.  This put me in mind of a silly movie from 1981, called "Caveman", starring Ringo Starr, his wife – or soon-to-be wife – Barbara Bach, a very young Dennis Quaid, John Matuszak, a young Shelley Long, and Jack Gilford.  I'm pretty sure that I saw this with a girl named Donna . . . back in the day.
There were no new clue words this day.  Two of the jumbles appear to be new, to me.  But, we have definitely seen both "eeosb" and "ritdh" in the past.  The answer letter layout was an elusive eleven letter jumble.  I got the POINT right away, but I had to rewrite the remaining letters to get BESIDE.  My people say BESIDES, just like we usually say ANYWAYS.  WordPress doesn't seem to have a problem with either of them.
I guess you'd call this a period piece cartoon?!  It's definitely Prehistoric!  As I was messing around with IMDB, I came upon the Western "The Long Riders", another Dennis Quaid flick, this one from 1980.  It stars four sets of brothers!  Three Carradines, two Quaids, two Keachs, and two Guests.  I don't know how many movies can boast that!  Good stuff!  Be well and do good, friends.)   —   YUR
Images courtesy of Google