Visual Description:  Our Gang Follies!
PVRIE  =  VIPER,  TNSAD  =  STAND,  MHOYLE  =  HOMELY,  CAEKLC  =  CACKLE   —   Giving us:  IPSDHLYCAL
Clue/Question:  With so much preparation and rehearsal, the students' performance was – – –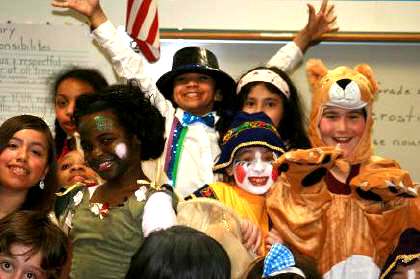 Answer:  CHILD'S PLAY
(Fun stinky pun!  "Shrek" is kind of of a modern day tale for kids.  They might try doing more of a classic children's tale.  Maybe next the kids can do Ra-pun-zel?!
None of today's clue words are new.  And yet all of their jumbles are coming up as new, for me.  I was able to see all the clue words immediately.  The answer letter layout was a terrific ten letter jumble.  Beautifully cryptic.  I guess the final answer slots clued me into the solution.
Really cute cartoon of an elementary school play.  The parents are all so proud, and the kids seem to be having a good time.  And, the teacher/director – in the wings – looks pleased that her kids are doing so well.  Fine Jumble.  Be well and do good, friends.)   —   YUR
Images courtesy of Google
Happy birthday to Don Wilson AND Bob Spalding of The Ventures!